News
Trading standards experts to attend political party conferences
Posted 22/08/16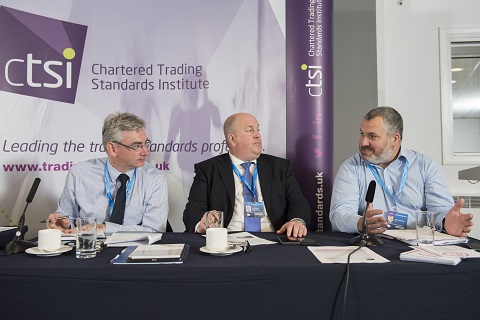 Trading standards experts from CTSI will be taking part in three of the major party political conferences later this year.
CTSI chief executive, Leon Livermore, and director of policy, Melissa Dring, will be speaking at fringe events at the Labour, Conservative and SNP conferences held in September and October.
Other speakers at the events include Jane Vass, director of policy and research at Age UK, Chi Onwurah MP, shadow minister for the digital economy and Jack Dromey MP, former shadow minister for policing.
The Fraud Fringe events will be in the style of 'Dragon's Den' with partners pitching ideas to a panel of MPs and will cover: 
the importance of data sharing
innovative ways to protect vulnerable consumers
new ways to raise awareness of fraud and scams  
Partners for the events include CIFAS, Age UK, Financial Fraud Action UK, the Insurance Fraud Bureau, the Federation of Communications Services and BBA. 
Leon Livermore, CTSI chief executive said: "We have always actively been involved in party conferences and this year is no different. In our 'Fraud Fringe' events, we will be highlighting some of the key consumer protection issues that people in the profession come across on a daily basis in the hope that discussion around these areas can encourage ideas for change.
"This year's fringe event is a platform for those who wish to discuss ways in which to protect consumers from the ongoing problem of fraud and scams."
---
The Fraud Fringe
Listed below are events CTSI are co-hosting with other organisations; please direct any enquiries to policy@tsi.org.uk
Labour Party Conference
When: Monday, 26 September, 5.30pm - 7pm
Venue: Liverpool ACC Meeting Room 11C
Chair: TBC
Speakers:
Chi Onwurah MP, shadow minister for the digital economy

Jack Dromey MP, former shadow minister for policing

Caroline Abrahams, charity director, Age UK


Leon Livermore, chief executive, CTSI

Melissa Dring, director of policy, CTSI

More TBC
Conservative Party Conference
When: Tuesday, 4 October, 5.45pm – 7pm
Venue: Birmingham ICC Hall 8B
Chair: TBC
Speakers:
Jane Vass, Director of Policy and Research, Age UK


Leon Livermore, chief executive, CTSI

Melissa Dring, director of policy, CTSI

More TBC
SNP Party Conference
When: Friday, 14 October, 12.30pm – 1.30pm
Venue: Glasgow, TBC
Chair: TBC
Speakers:
Angela Kitching, Head of External Affairs, Age UK


Leon Livermore, chief executive, CTSI

Melissa Dring, director of policy, CTSI

More TBC
---