News
London cosmetic shops fined £168,000 for selling illegal cosmetics
Posted 12/01/17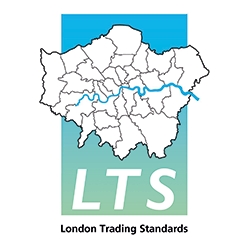 Figures published by London Trading Standards this week showed that 15 cosmetic businesses across the capital were fined a total of £168,579 in 2016 for dealing in unsafe cosmetic products. 
The majority of the prosecutions concerned the supply skin lightening products containing dangerous and prohibited levels of hydroquinone, mercury or corticosteroids. In addition labelling breaches and lack of traceability was also an issue. 
Safety regulations prohibit these ingredients in cosmetics, however thousands of products containing them had been found and seized in a co-ordinated campaign by London Trading Standards. 
The prolonged use of such products can result in a host of health problems from skin thinning and discoloration to organ damage and even cancer in the long run. 
A product called Grace Duo contained 18% of the bleaching agent hydroquinone. This is believed to be the highest amount ever found by trading standards in such products. Another soap product called Faiza Beauty Cream contained 0.54% of toxic Mercury. 
The results were achieved by five London boroughs who prosecuted a total of 17 individual Directors along with their 15 companies. The average penalty was £11,239.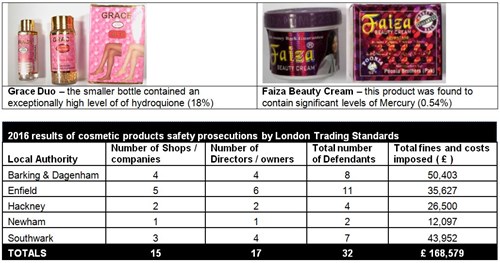 Illegal sales don't just occur on the high street though. Research conducted for London Trading Standards Regional Intelligence service has identified at least 15 online sellers of prohibited skin lightening products using ebay. Work is now being done to locate and tackle these sellers.
Officers in Waltham Forest recently seized over 3,000 products from one such seller and an investigation is ongoing.
Company bosses who sell banned cosmetic products can be fined up to £20,000 per offence and sent to prison for up to one year.
Steve Playle, a spokesperson for London Trading Standards said: 
"Last year saw some great outcomes as a result of our co-ordinated campaign against illegal cosmetics and some defendants even had suspended prison sentences imposed. 
These penalties should make shop owners tempted to ignore safety rules think twice before putting profit over the health and safety of their customers. 
London Trading Standards  have a duty to enforce product safety rules but ever shrinking officer numbers and reduced budgets makes it an ever more challenging job - particular with competing priorities such rogue traders and doorstep crime, fake goods and underage sales issues. 
Despite these difficulties our teams remain determined to tackle the issues putting Londoners at risk. 
Moving forward in 2017 we will be checking more online sellers to ensure such damaging products are not being made available. 
Anyone with information about consumer crime can report it anonymously via the London Trading Standards reporting tool at www.londontradingstandards.org.uk" 
Cllr Simon Blackburn, Chair of the Local Government Association's Safer and Stronger Communities Board, said: 
"Beauty routines shouldn't come with the risk of ruining your looks forever. Cosmetic products such as skin creams should be safe to use but banned lotions containing toxic formulas could seriously damage your health, and even kill you, so they should be avoided at all costs. 
Residents have a right to expect that high street stores will only sell safe and reputable products. Consumers should always check the ingredients of their skin creams and never use a product containing hydroquinone. If the product doesn't display the ingredients at all, then consumers are also advised not to use it. 
Councils have been targeting rogue retailers selling these banned creams and the large fines these businesses have received as a result of this important work by London Trading Standards teams should deter others from selling these dangerous products. 
Anyone who has purchased a cream they think could be banned should stop using it immediately and report it to their local Trading Standards team. 
It is vital that people report any concerns, so that trading standards can take action to prevent anyone being harmed or scarred for life."
Editors notes: 
Anyone can report sales of illegal products anonymously via the LTS Report Consumer Crime Tool at www.londontradingstandards.org.uk/report-consumer-crime/
 Further details about the skin lightener campaign can be found at londontradingstandards.org.uk
 The prosecutions relate to offences that occurred in 2015 or before pictures of some premises and some products are available on request
 The safety of cosmetic products is regulated by an EU Directive now implemented in the UK by the Cosmetics Products Enforcement Regulations 2013. Local authority trading standards officers enforce  the regulations
 London Trading Standards) is the membership organisation for all 33 Local Authority Trading Standards Services in the London Region
 The Local Government Association (LGA) represents more than 370 councils in England and Wales www.local.gov.uk/
 Effects of prolonged use of prohibited ingredients;
Hydroquinone; works by inhibiting production of the pigment melanin which gives skin its colour. However melanin is vital to protect the skin against UV radiation so your body will over compensate by producing more melanin. 
This results in a darker patchier appearance developing
It damages the elastin strands in skin causes premature aging and weakening of the skin
It can cause neuropathy, a disease of the nervous system
It can damage your liver
It increases the risk of the development of skin cancer from exposure to UV radiation 
Hydroquinone is not permitted as an ingredient in cosmetic skin lighteners. 
Mercury is a toxic element that accumulates in the body and damages the kidneys, liver and brain causing a host of serious and potentially fatal health problems. 
Corticosteroids, such as Clobetasol Propionate and Betamethasone Dipropionate are prescription only medicines and their use must be supervised by a medical practitioner. They are prohibited in cosmetic products and their unauthorised sale constitutes an offence under Human Medicines Regulations. 
Misuse will cause skin thinning, stretch marks, bruising and broken veins
Eczema or acne could flare up
There is an increased risk of skin infection, sores and boils
Prolonged use will affect the release of hormones that control and stabilise vital functions with very serious or life threatening consequences 
Prosecution results from 2016: 
In Barking & Dagenham – four businesses were convicted in March 2016 at Barkingside Magistrates Court. Total fines and costs were over £50,000. One of the products found, called Faiza Beauty Cream contained 0.54% mercury a highly toxic element that accumulates in the body. Total fines and costs were: 
£15,240 - Crystal Cosmetics (Dagenham) Limited and director
£15,163 – Supergrows Cosmetics Limited of East Street Barking and director
£14,950 - Beauty Queens Cosmetics (Barking) Ltd of East Street Barking and two directors
£5,050 - Sole trader R&T Cosmetics of the Heathway in Dagenham 
In Enfield – five businesses were convicted in September to December 2016 for labelling issues and other offences: 
£21,787 - Kannan Stores Ltd of 251 Fore Street, Edmonton, and two director
£3,195 - Afromart Mini Market Ltd, Hertford Road, and director
£2,595 - Shaba Hair & Cosmetics (UK) Ltd of South Mall, Edmonton and director
£3,050 - Beautyqueens Cosmetics (Wood Green) Ltd of Fore Street, Edmonton, and director
£5,000 – Gramadi Place Limited and director
In Hackney - two long running cases against Dalston based Beauty Queen Cosmetics Limited and Shaba Hair & Cosmetics Limited were resolved on 26th May 2016 at Snaresbrook Crown Court. Two Directors received suspended prison sentences and 100 hours community service each along with a total of £26,500 in fines and costs. The offences were committed in June 2013. They were also ordered to pay back a total of £3760.59 under the Proceeds of Crime Act and one was disqualified from being a Director for 4 years. 
In Newham – another branch of Supergrows Cosmetics Limited was also subject to enforcement action after being found to have infringing products. On 6th April 2016 Thames Magistrates imposed fines and costs against the company and director totalling £12,097. 
In Southwark - the Directors of three businesses trading in Rye Lane, Peckham SE15, appeared at Camberwell Green Magistrates Court on 15th April 2016. They each pleaded guilty to a variety of offences concerning the supply of skin lighteners and soaps containing prohibited ingredients or prescription only products after some 2,690 products were seized in 2015. They received fines and costs totalling just under £44,000. One of the products found, called 'Grace Duo', contained 18% hydroquinone – believed to be the highest amount ever found in such sampling. Total fines and costs were:
£19,143 - Fas Hair & Cosmetics Limited and Director 

£15,200 - Peckham Hair & Cosmetics Limited & two Directors

£9,609 - Jinny's Beauty Limited and Director 
CONTACT DETAILS 
London Trading Standards - media@londontradingstandards.org.uk
Steve Playle – 07968 834 647
Further details about the campaign and the cases can be found at: londontradingstandards.org.uk
---