News
New guide to help used car sellers understand their legal obligations
Posted 15/02/17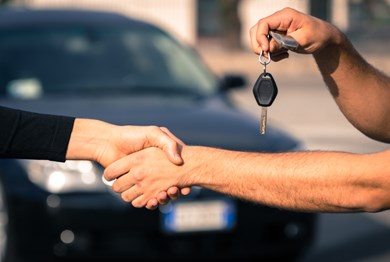 Trading standards experts have been working with the motor industry to get answers to some of the most complained about issues concerning used car sales.
The guidance follows one of the biggest shake-ups of consumer law, in a generation, which among other things makes it clear on the exact time limits customers have to reject cars and gain a refund.
Previously, there was no set timeframe for customers to return cars, leading to thousands of customer complaints and disputes.
Meanwhile, Citizens Advice data has confirmed that used car sales have caused the most consumer problems of the last five years – with 57,351 general issues reported last year alone.
The short guide is published today on the free government-backed businesscompanion.info website which is aimed at helping all businesses understand their legal responsibilities under trading standards law.
Traders are urged to get to grips with the website and in particular the guidance on the Consumer Rights Act. The Act places several key responsibilities on traders on issues like repairs, refunds and even digital content – found in on-board entertainment systems and sat navs.
businesscompanion.info is delivered and managed by experts at the Chartered Trading Standards Institute (CTSI) so people can be sure the advice is practical, accurate and always up to date.
Adrian Simpson, CTSI's business education and consumer codes expert, said:
"It might feel like trading standards law is out to get you but it's not, it's there to help create a fair and level playing field to protect consumers and businesses alike.
"When you get trading standards law right and when you understand your obligations it saves you time and money and makes it easier to resolve a problem, if things do go wrong.
"With so many parts of the Consumer Rights Act relevant to car dealers and those that work in the motor industry, it's more important than ever that businesses get up to date with the law.

"The new guide and the wider information on businesscompanion.info allows businesses to access technical and legal expertise for free, so they can make sure they are clear on the legislation that affects them."
Some of the issues that are covered in the guide include: what responsibilities a trader has if a car is faulty and the time limits that apply to both parties; what the law says about when a trader can make repairs to a vehicle that is faulty; and what a trader should do if a consumer claims their final right to reject after initial repairs did not work.
It also provides legal guidance for car dealers that sell goods and services online or over the phone, which can differ from a face-to-face sale.
In addition to being a useful reference in its own right, the guide signposts to other sections of the businesscompanion.info website that many businesses will find useful. CTSI has also produced a short animation to explain the basics.
ENDS
Notes to editors
View the guide here: https://www.businesscompanion.info/en/news-and-updates/used-cars-your-top-five-questions-answered​
View the full animation here: https://youtu.be/DFxcCtxxg1w 
Visit the Business Companion website here: www.businesscompanion.info
---