News
Teenager praised for winning national toy design competition
Posted 16/02/17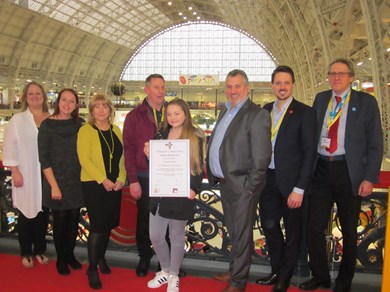 A teenager who designed a new toy praised as being 'ahead of the competition' has been congratulated by trading standards professionals and experts in the toy industry.
Shannon Pardoe was announced as the overall winner of Playsafe 2016 and recently received her award at the British Toy and Hobby Association's annual Toy Fair in London.
The 14-year-old, from Highsted Grammar School, Kent, impressed judges with her 'Wack A Math' toy design, which incorporated safety features but also had a fun, educational twist that challenged players to answer maths questions correctly.
Organised by the Chartered Trading Standards Institute (CTSI) and the British Toy and Hobby Association (BTHA), Playsafe is an annual competition that encourages children to design toys that reflect appropriate product safety requirements.
Leon Livermore, CTSI chief executive, said: "It is so important to raise children's awareness of consumer issues and aspects of product safety and Shannon's design did just that, but in a fun and imaginative way.
"With so many fantastic entries this year, I hope this has given young people a national platform to showcase their creative ideas."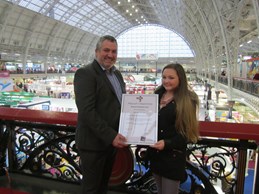 Shannon was chosen from more than 250 entries and selected as the overall winner, after coming first place in the 12 to 17-year-old category. She took home £100 for herself and £1,000 for her school.
Natasha Crookes, director of communications and public affairs at BTHA, said: "Shannon's design was very much ahead of the competition and its incorporation of science, technology, engineering and mathematics reflects the current trend of toys on the market this year.
"We loved the name and theme, and thought the whole design showed great imagination and creativity. Shannon has a great future ahead and we hope to see her back showcasing many more designs in years to come."
Kent County Council were one of the councils that organised the competition in their area, encouraging local schools to participate.
Steve Rock, head of Kent County Council trading standards, said: "There are strict safety requirements controlling the production and sale of toys to ensure protection for children. 
"In the UK, dangerous toys are the responsibility of trading standards, we remove dangerous toys from sale and prosecute if necessary. We work with businesses to help them comply with the law so that they can continue to make safe toys.
"Toys also need to be fun to play with, which require innovative, clever designs. 
"The Playsafe competition encourages young people to be imaginative as well as teaching them what safety features to look out for when choosing toys. We are proud of Shannon's achievement."
ENDS
Notes to Editors
Image 01: (L to R) Natasha Crookes, BTHA; Sian Crowhurst, Kent County Council; Sandra Cook, Kent County Council; Graham Pardoe; Shannon Pardoe; Leon Livermore, CTSI; Matt Jones, BTHA; and Graham Peter, Highsted Grammar School.
Image 02: (L to R) Leon Livermore CTSI chief executive and Shannon Pardoe.
More images are available on request.
The award ceremony took place at BTHA's annual Toy Fair on Thursday 26 January.
For more information about CTSI visit the website: www.tradingstandards.uk
For more information about BTHA visit the website: www.btha.co.uk
---