News
Collaboration brings down illegal tobacco operations
Posted 28/01/19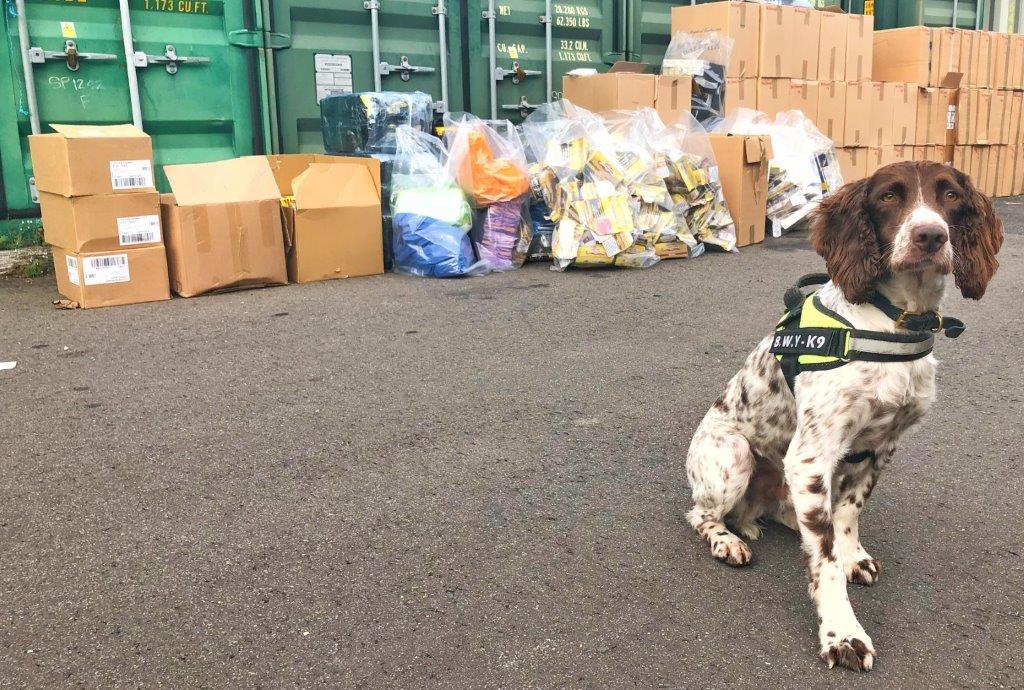 Seven local authority trading standards services joined forces to tackle illegal tobacco operations in the South East, seizing nearly £250,000 worth of counterfeit tobacco products, class A drugs and cannabis.
The collaboration of trading standards services, combined skills and resources to work together effectively to visit 18 self-storage businesses at the end of 2018. One local authority inspected over 1,400 storage lockers in a single day.  The project was assisted by veteran sniffer dogs from BWY Canine Ltd.
The project uncovered 429,700 cigarette sticks and 189kg of hand rolling tobacco (HRT) as well as substantial quantities of class 'A' drugs and cannabis.  Evidence of a potential tobacco packaging factory was also discovered, with seizures of empty tobacco pouches, counterfeit duty stamps and outer wholesale packaging.  
Trading Standards Manager at Reading Borough Council, Matthew Golledge, who led the project, said: "Due to emerging intelligence we expanded our trading standards enforcement to cover alternative storage locations to disrupt and take action against those who supply illicit tobacco in the South East of England. Current finds are being investigated and further visits are planned."
Chief Executive at the Chartered Trading Standards Institute, Leon Livermore, said: "Joint operations as we can see here highlight the versatility of trading standards services in the South East of England who have a track record of working together efficiently to achieve more and make use of the limited resource allocated."
Studies(1) show that illegal tobacco makes it easier for children to start smoking and become addicted while counterfeit goods have frequently been linked to serious and organised crime, and criminal gangs. These gangs are often involved in drug dealing, money laundering, people trafficking and even terrorism.  For more information watch this illegal tobacco video from Trading Standards South East.
Sniffer dog Scamp, who helped Trading Standards officers on the joint operation, has become such a threat to these criminal gangs that a price of £25,000 has been placed on his head.
To help stop local criminals selling and distributing illegal tobacco, please contact our Illegal Tobacco Hotline if you have any information about illegal tobacco being sold in your area:
Illegal Tobacco hotline 0300 999 6999 or www.stop-illegal-tobacco.co.uk website
End
Editors notes
For press queries, email CTSI Press Office: pressoffice@tsi.org.uk, or call 01268 582240. 
Chartered Trading Standards Institute (CTSI) The Chartered Trading Standards Institute (CTSI) is a training and membership organisation that has represented the interests of the trading standards profession since 1881, both nationally and internationally. It aims to raise the profile of the profession while working towards a safer, fairer, and better-informed society for consumers and businesses. CTSI's members deliver frontline trading standards services in local authorities. www.tradingstandards.uk.
Trading Standards Services from the following Local authorities involved were: Brighton & Hove City Council, East Sussex County Council, Kent County Council, Oxfordshire County Council, Portsmouth City Council, Southampton City Council and West Sussex County Council.
Trading Standards South East Ltd (TSSE), a limited liability company registered in England and Wales with registered number 5259365 & VAT number 834 585 307. Registered Office: C/O Surrey County Council, Fairmount House, Bull Hill, Surrey, KT22 7AY
TSSE is a partnership between 19 Local Authority Trading Standards Service in the South East from the following councils: Bracknell Forest, Brighton & Hove, Buckinghamshire, East Sussex, Hampshire, Isle of Wight, Kent, Medway, Milton Keynes, Oxfordshire, Portsmouth, Reading, Slough, Southampton, Surrey, West Berkshire, West Sussex, Royal Borough of Windsor & Maidenhead & Wokingham.
1) 2017 North East Illegal Tobacco Study: http://www.freshne.com/in-the-news/pr/item/2182-illegal-tobacco-hooking-teens
Trading Standards South East Illegal Tobacco Video -  http://www.deadlinecommunications.co.uk/Video/Master%20Tobacco%20-%20SOUTH%20EAST.mp4
---