News
New COVID-19 food businesses guide launches
Posted 14/05/20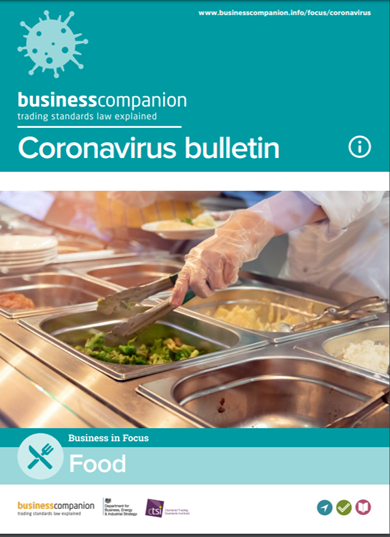 The COVID-19 coronavirus and the resulting lockdown has changed our lives drastically in a short time. Everyone has had to change the way they live, work and conduct their business. The closures of all pubs and restaurants have hit a UK industry worth over £40bn, and many fear long-term damage to the industry. 
Many businesses are exploring, and others have already begun diversifying their business model to adapt to "the new normal". To aid this, the Chartered Trading Standards Institute (CTSI), and the Department for Business, Energy & Industrial Strategy (BEIS) have launched a free expert guide on business diversification during the pandemic.
Pubs and restaurants that had typically never offered takeaway options before are embracing it as a surefire means of generating income during the pandemic. The internet is now full of easy to use third-party platforms for businesses to set up their takeaway options. From Just Eat to Deliveroo, Uber Eats, Foodhub and others, there are many different opportunities to diversify the business model and embrace takeaway. 
Changing the model may mean that businesses will have to engage with rules and regulations that they haven't before. The free online guide answers the burning questions that food businesses need answering when diversifying. 
CTSI Chief Executive, Leon Livermore, said: "CTSI is committed to encouraging good practice and helping responsible businesses improve their services. The COVID-19 emergency is an unprecedented challenge for business, and many, especially in the food and drink sector, are looking to diversify during the lockdown.
"Business Companion is free, and an absolute must-have for UK business, and its new Food & Drink section provides a comprehensive and clear guide for the industry. Importantly, it covers parts of industry regulations businesses may have never considered before and puts business on the fast-track to diversification."
Head on over to Business Companion's Food & Drink section today and get trading standards law right.
ENDS
Notes for Editors:
CTSI Press Office: pressoffice@tsi.org.uk, 01268 582240
Chartered Trading Standards Institute (CTSI)
CTSI is a training and membership organisation that has represented the interests of the Trading Standards profession since 1881 nationally and internationally. We aim to raise the profile of the profession while working towards fairer, better informed and safer consumer and business communities.
CTSI's members are engaged in delivering frontline trading standards services in local authorities and in businesses. www.tradingstandards.uk
---