News
Wakefield teenagers are national consumer champions 2014
Posted 03/07/14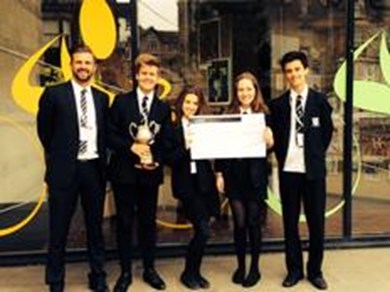 Students from Horbury Academy, beat tough competition from three other schools in the grand finals of Young Consumers of the Year competition at the Trading Standards Institute conference in Harrogate this year.
Hundreds of schools from across the country entered the competition to find Britain's best-informed young consumers. Eight teams of four 14- to 17-year-olds made it to the finals of this knockout consumer quiz after coming top in qualifying heats and regional finals. 
The winning team from Wakefield was made up of Issac Fisher, 16, Lucy Allatt, 16, Amy Osborne, 16, and John Broadhead,16, took home a medal, a £50 gift voucher and a goody bag of prizes plus the College of Fellows trophy and £1,000 for their school.
Assistant head teacher at Horbury Academy, Julian Harrison, said: "I'm absolutely delighted for the children. They've worked really hard and done a lot of preparation for the event. I'd also like to say a big thanks to all involved in the competition – the whole event has been great."
They reached the final by winning a tough semi-final and then clinched the title after pulling ahead of the other teams in the early rounds, beating Chatham and Clarendon Grammar School from Kent and winning the competition. St Albans RC High School from Torfaen came in third and Brynteg Comprehensive School from Bridgend came fourth.
Young Consumers of the Year, organised by TSI, offers young people the chance to show their awareness of their environment, and their ability to be streetwise about what they eat, what they buy and how they manage their money.
TSI chief executive Leon Livermore said: "It is fantastic to see so many young people take part in this event. I'm confident that the knowledge they gain will stand them in good stead for their life ahead as consumers or indeed as good business people. In today's increasingly complex world, it is becoming more and more important for everyone to know about their rights and responsibilities so they can stand up for themselves and make informed decisions.   
"It was a very exciting final. Congratulations to Horbury Academy; very well done!"
Names left to right: Issac Fisher, 16; Lucy Allatt, 16; Amy Osborne, 16; John Broadhead, 16.
For further information, to arrange an interview or to obtain photographs please contact the Trading Standards Institute on 0845 6089439 or ivyh@tsi.org.uk or follow the TSI Conference via our Twitter feed at @tsi_UK #TSICONF
Main Conference sponsor
Trading Standards Institute (TSI)
TSI is a training and membership organisation that has represented the interests of the Trading Standards profession since 1881 nationally and internationally.  We aim to raise the profile of the profession while working towards fairer, better informed and safer consumer and business communities.
TSI's members are engaged in delivering frontline trading standards services in local authorities and in businesses.  
www.tradingstandards.gov.uk 
---