News
Winner of toy design competition announced
Posted 03/07/14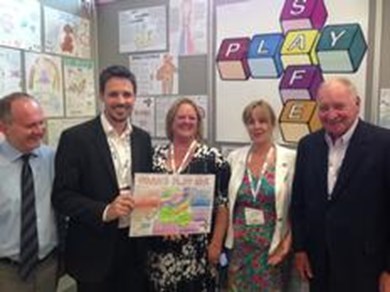 Noah's Play Ark is the name of the winning entry in a national toy design competition, announced 2 July at the Trading Standards Institute's (TSI) Conference in Harrogate.
The brainchild of Eboney Calladine, 15, impressed the judges of the annual Playsafe competition with its clever creativity and safety features, beating off competition from over 250 entries from across the UK.
The design by the pupil from The Hayfield School in Doncaster was chosen as the overall winner after coming top in the 12-17 age category, taking home £100 herself and £1,000 for her school.
TSI's Chief Executive Leon Livermore said: "Every year I enjoy seeing the fantastic fruits of children's imagination as they dream up a toy for Playsafe – I'm so impressed with the creativity that we see and the level of attention to detail. 
"This competition is a great way to engage children and young people in a fun way while making them aware of what to look out for in terms of safety and we are grateful for the support we have received from the British Toy and Hobby Association (BTHA) for more than 20 years in making this competition happen."
BTHA's Director General Roland Earl said: "When judging the Playsafe competition we always look for a toy that is fun with lots of play value, after all that's what toys are all about! We also look for an understanding of the safety warnings to look out for when designing or buying a toy – which is a key element of the Playsafe competition.
"The standard of entries was exceptionally high and it made it difficult to pick a winner, however, the winning toy managed to combine all the safety elements whilst still being fun and engaging. The Noah's Play Ark from Eboney stood out to come top in 12-17 age category and as overall winner thanks to her colourful fun stacking and jigsaw toy. The judges could see this fitting into a display in any good toy shop. It really is a well designed toy." 
Katie Ireland, 11, and Beth Proctor, 11, scooped first prize in the 6-11 age category also praised for their Cheeky Charlie toy which was described by the judges as entertaining with fun comments that literally made it cheeky!
NOTES TO EDITORS
Photo from left to right: Playsafe judges- Roland Earl, Matthew Jones, Natasha Crookes, Wendy Phillips and Mike Drewry.
The winner in the 12-17 age category and overall winner of the 2014 Playsafe competition is Eboney Calladine, 15, from The Hayfield School, Doncaster, Noah's Play Ark.
The runner-up in the 12-17 age category is Ella Thomas, 14, from Highsted Grammar School, Sittingbourne with her toy Ellie Squirt.
The winner of the 6-11 age group is Katie Ireland, 11, and Beth Proctor, 11, from Aylesford Primary School, Aylesford, with their toy Cheeky Charlie.
The runner-up in this category is Sophie Martin, 11, from Rush Common School, Abington with her toy Oscar The Octofly.
The overall winner of the 2014 Playsafe competition is Eboney Calladine..
For further information, to arrange an interview or to obtain photographs please contact the Trading Standards Institute on 0845 6089439 or ivyh@tsi.org.uk or follow the TSI Conference via our Twitter feed at @tsi_UK #TSICONF
Main Conference sponsor
Playsafe
The Playsafe award was created more than 20 years ago by the Trading Standards Institute (TSI) and the British Toy and Hobby Association (BTHA) to encourage a greater awareness of safety features in toy design. It is part of TSI's Young Consumers of the Year initiative. The competition is run in schools and is open to students aged 6-17 with three entry categories: ages 6-11, ages 12-17 and special schools.
Pictures of the designs are sent to TSI and displayed at the annual Trading Standards Conference, where judging takes place.
Trading Standards Institute (TSI)
TSI is a training and membership organisation that has represented the interests of the Trading Standards profession since 1881 nationally and internationally.  We aim to raise the profile of the profession while working towards fairer, better informed and safer consumer and business communities.
TSI's members are engaged in delivering frontline trading standards services in local authorities and in businesses.  
www.tradingstandards.gov.uk 
---