News
#scambassador campaign urges scam victims to take action
Posted 26/05/16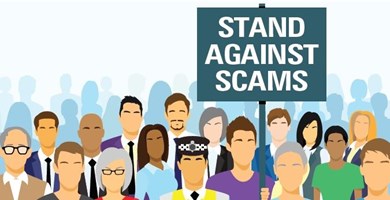 Trading standards experts are urging people to report scams and attempted scams to the authorities in response to figures that suggest 95 per cent of such crimes go unreported.
The Chartered Trading Standards Institute (CTSI) has today launched its Stand Against Scams1 campaign which encourages MPs, councillors and community leaders to sign up and become a #scambassador.
Each #scambassador will be supported by CTSI and the National Trading Standards (NTS) Scams Team to lead the fight against criminals and unscrupulous traders in their communities and urge more people to report scams.
Leon Livermore, CTSI chief executive, said: "About £52 billion2 is lost to scams every year and while it is often society's most vulnerable it is important to remember that anyone can fall victim.
"The impact is often heart-breaking and we know of people who have lost their life savings or even re-mortgaged their homes after becoming a repeated target."
Louise Baxter, manager of the NTS Scams Team, said: "The tactics used by scammers leave victims socially isolated and ashamed of telling their friends and families what's really going on behind closed doors.
"I would encourage all those that are interested in showing their support to join the campaign and be part of our #scambassador network which is already starting to grow."
The average age of a scam victim is 74 but according to Action Fraud 53 per cent of people aged 65 or older have been targeted, with some known to have re-mortgaged their homes to cover loses.
Last month, a 90 year-old woman3 from Sutton was conned out of £60,000 in a decade-long postal scam which started when the victim ordered make-up advertised in a mail order catalogue.
Meanwhile, a lincoln pensioner4 has recently thanked trading standards for their help in preventing her from being scammed out of hundreds of pounds after she responded to scam mail.
ENDS
Notes for Editors: 
The Stand Against Scams campaign pack can be found on the CTSI website
National Fraud Authority Annual Fraud Indicator 2013 https://www.gov.uk/government/uploads/system/uploads/attachment_data/file/206552/nfa-annual-fraud-indicator-2013.pdf
Scam mail case study: http://www.standard.co.uk/news/london/pensioner-90-conned-out-of-60000-in-decadelong-postal-scam-a3232011.html
---