News
Hero Awards: Consumer champion Martin Lewis receives national hero award
Posted 20/06/18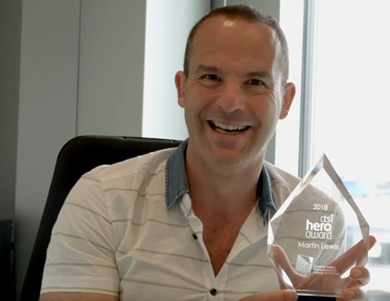 Martin Lewis, who has become one of the nations' most trusted and prolific consumer champions after setting up the MoneySavingExpert.com website for just £100, has been awarded the prestigious Hero Award from the Chartered Trading Standards Institute (CTSI).
A powerhouse for consumer rights and a tireless campaigner Martin has promoted financial education in schools, helped individuals reclaim bank charges and assisted consumers in reclaiming PPIs in an easy to follow guide. Martin was awarded an OBE in 2014 for his services to consumer rights and charitable engagement.
He most recently founded and funded a charity, the Money and Mental Health Policy Institute, which helps research, lobby and innovate policies to break the link between mental health problems and debt.
The MoneySavingExpert.com website now has more than 15 million monthly users and 12 million subscribers to its weekly Money Tips email correspondence.
Chief Executive at CTSI, Leon Livermore, said: "Martin has worked diligently, with steadfast determination and with great dedication in the interest of consumers. He is a pillar in our community and a trusted source for consumer protection. He is a hero in our eyes."
The CTSI Hero Award celebrates individuals or groups of people whose outstanding contribution towards consumer protection in our communities have made a significant impact. Every year, the Institute is inspired by the stories of nominees throughout the country whose bravery, altruism and hard work often goes unnoticed.
Martin was presented with the CTSI Hero Award at a special filmed ceremony. The video was shown at the CTSI Hero Awards ceremony on June 20 at One Great George Street, London, where he was honoured alongside eight other Heroes of consumer protection. 
ENDS
Notes for Editors:
For press queries/accreditation, email CTSI Press Office: pressoffice@tsi.org.uk, or call 01268 582240.
Sponsored by: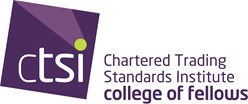 CTSI College of Fellows
The College of Fellows is a charity that has supported CTSI and the trading standards profession for more than 60 years. It promotes educational and research activities, as well as providing help for the families and dependants of trading standards professionals who die in service, and in other times of crisis.
Chartered Trading Standards Institute (CTSI)
CTSI is a training and membership group that has represented the interests of the Trading Standards profession since 1881 nationally and internationally. We aim to raise the profile of the profession while working towards fairer, better informed and safer consumer and business communities.
CTSI's members are engaged in delivering frontline trading standards services in local authorities and in businesses. www.tradingstandards.uk.
Scams Awareness Month
Scams Awareness Month is an annual opportunity to raise awareness and take a stand against the crimes and predatory practices which affect millions of people. The Chartered Trading Standards Institute (CTSI) has teamed up with Citizens Advice and the Consumer Protection Partnership (CPP) to ensure trading standards services can raise awareness of scams across the country.
This year's campaign, 'Don't miss a trick, be scam aware', will continue to focus on those frequently targeted for scams. Working with trading standards, Citizens Advice have identified four groups most likely to be targeted by scams: young people (18-24), life established (40s-60s), over 70s and the socially isolated. Each week of the campaign will focus on one of these four key groups.
---