News
Beware of unsafe Christmas toys available online experts warn
Posted 23/11/21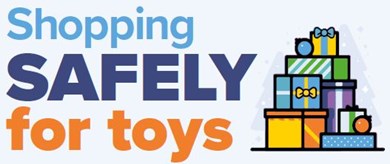 The Chartered Trading Standards Institute (CTSI), the British Toy and Hobby Association (BTHA) and ROSPA are raising concerns about online purchases of toys this Christmas. In what looks like a return to a lockdown-free Christmas, CTSI warns the public to be cautious when purchasing toys, particularly online, with Statista reporting that online market revenue in the UK is expected to reach almost £90bn by the end of 2021. While, in October, BTHA raised concerns about the safety of toys purchased through third-party sellers on online marketplaces such as Amazon and eBay in its Still Toying with Children's Safety report.
The BTHA research revealed that nearly half of the toys purchased from third-party sellers via online marketplaces were unsafe for children. Out of the 255 randomly selected toys inspected and tested, 88% were illegal to sell in the UK, and 48% were unsafe. 
Head of Public Affairs at BTHA, Kerri Atherton, said: "It is not acceptable that unsafe toys are allowed to enter the UK market, putting children at risk of serious injury. Following our investigation, we are calling for urgent changes to the law to prevent the sale of dangerous toys. In the lead up to Christmas, we would advise people to exercise caution when purchasing via an online marketplace by researching into the third-party seller, as often they are not held accountable for the safety of their products. We invite the public to take a look at our consumer tips guide on the BTHA website."   
Trading standards professionals working among import teams are busy inspecting products entering the country during the Christmas holiday period. This time last year, teams seized and destroyed millions of unsafe PPE items during the height of the pandemic. This year, trading standards teams reported several instances of hazardous products entering ports in Scotland and the south of England. A common example of this includes toys containing phthalates of a type that are banned. Phthalates are used to make plastic more durable, but their toxicity can damage the liver, kidneys, lungs, and reproductive system at higher levels. 
In October, an American study found that approximately 100,000 deaths a year in the United States can be attributed to phthalates in food packaging. In most instances, these products are destroyed at the border, and shopping platforms are ordered to take the product listings down. 
Chief Executive at CTSI, John Herriman, said: "It sickens me that unscrupulous manufacturers are using dangerous materials in products popular with children, especially phthalates which cause serious toxic effects and even death. 
"Many people are especially looking forward to these Christmas holidays after the unprecedented challenges of the past 18 months that the pandemic brought. They don't want the threat of unsafe toys entering their households. 
Trading standards professionals across the country focus on protecting our children from harmful toys, especially during the holiday period. They are destroying unsafe and illegal products at the border, and trading standards authorities are doing their utmost to get dangerous products delisted and removed from online retailers. This work is enormous and ongoing due to the sheer amount of products sold on the global marketplace, and I applaud their efforts. 
"The public must remain vigilant and check the safety information and origin of the products they purchase. Above all, they should report instances of dangerous products to the authorities as it helps paint a complete picture of the scale of this issue." 
Public Health Adviser at RoSPA, Ashley Martin, said: "As more and more of us decide to shop online, many of us may be unaware that online platforms are not always the seller of the products on their websites, but often act as an intermediary between an independent company and the buyer. 
"Before you buy online, ask yourself the following:"
      

are you buying directly from an online platform or is it a third-party seller?

      

what do you know about the seller's reputation for selling safe goods?

      

is the seller based in the UK?

      

does the seller provide a name and address for you to contact?

 
For consumer advice or to report unsafe products in England and Wales, please call the Citizens Advice Consumer Helpline on 0808 223 1133. Welsh language speakers can call 0808 223 1144. 
If in Scotland, contact Advice Direct Scotland on 0808 164 6000, or if in Northern Ireland, contact Consumerline on 0300 123 6262 
ENDS 
CTSI is working with the Office for Product Safety and Standards (OPSS) to raise consumer awareness about buying unsafe toys online this Christmas. OPSS has produced a number of resources on toy safety that can be downloaded on their website.
---