News
September 2023: News and Policy Round Up
Posted 29/09/23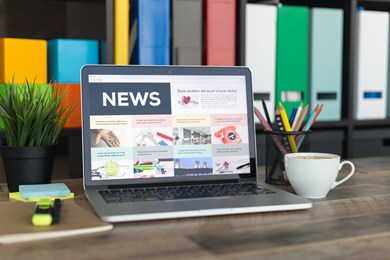 CTSI making headlines
CTSI Lead Officer for Vaping, Marsha Bell was featured in a BBC One Panorama episode that was looking into the rise in youth vaping. Rachel Burden spoke to young people, parents and experts about how to tackle youth vaping. You can watch the full episode on the BBC iPlayer.
CTSI Lead Officer for Vaping, Kate Pike joined BBC Radio Wales to talk about all things vape related in response to the Public Health Wales guidance for schools being published. You can Listen to the interview (about 19 minutes in).
CTSI featured in BBC One Morning Live's investigative piece looking at the issues of vegan food labelling, and the associated risks for allergy sufferers. Our Lead Officer for Food, David Pickering is included in the piece, using background information and recommendations from our recent policy report. You can watch the feature on BBC iPlayer, it was the first segment of the show.
---
CTSI makes concerns heard on Digital Markets, Competition and Consumers Bill (DMCC)
CTSI has been involved in policy work around the Digital Markets, Competition and Consumers (DMCC) Bill. The DMCC Bill is designed to enhance the regulation of competition in digital markets, and the CTSI policy team has been working with CTSI Lead Officers to contribute to this policy discussion via amendments, tabled to the House of Commons.
Amendments submitted by CTSI include clarifying key definitions, requesting powers for Trading Standards Officers in the realm of online marketplaces, and amending methods by which Trading Standards Officers can request information from businesses. These amendments have been submitted via Labour Peers Ms Seema Malhotra MP and Neil Coyle MP, and CTSI will be further engaging with peers in the House of Lords regarding the Bill.
CTSI has also been sitting as the secretariat for the APPG evidence sessions on online marketplaces, facilitating important policy discussions around the safety of products sold on the platforms and issues with the supply chain.
CTSI has held meetings with the Department for Business and Trade (DBT) to offer consultation on aspects of the Bill, such as the ability of Trading Standards officers to access necessary information, and whether Trading Standards should have enforcement responsibilities regarding Consumer Savings Schemes. Following this, CTSI has timetabled follow-up meetings with DBT to discuss Online Interface Orders (OIOs) and will take part in the newly released Government consultation entitled 'Smarter regulation: improving price transparency and product information for consumers consultation'. This consultation will cover OIOs, and CTSI will work with Lead Officers in this area to submit a response in mid-October.
---
CTSI continues to bring Trading Standards to the forefront of concerns around vaping
The surge in disposable vape usage has become a cause for concern due to its association with heightened youth vaping rates, environmental repercussions, and the proliferation of illicit vape products that fail to meet UK standards. CTSI is holding another Spotlight On…Vaping webinar to engage in discussion with key stakeholders regarding the potential next steps with single-use disposable vapes and recycling measures.
The webinar will take place on Wednesday, 18 October 11:00 – 12:30pm. Keep an eye out for information about the speakers and ticket information.
With the Government potentially considering a ban on single-use disposable vapes, we hit the streets of London to speak to members of the public about whether they would support a ban on disposable vapes. Hear what the public had to say in our latest Vox Pop.
As part of Operation Joseph partnership work on vapes with NTS, and with thanks to Regional Heads of Service for their nominations, CTSI has now established the Vaping Expert Panel. The Expert Panel is drawn from each of the Regions and from Scotland and Wales and will be posting advice on the Regulators Companion. If you have a query of national interest, which cannot be resolved within your Region, you can refer it via your Regional Panel Member to the Expert Panel for advice and guidance.
Work continues on our manifesto which is likely to include calls for better controls on vapes. With thanks to all those who have contributed so far.
---
CTSI responds to Government's long-awaited Product Safety Review
CTSI welcomed the publication of the much-anticipated Product Safety Review to be undertaken by the Department for Trade and Business (DBT) that is examining the effectiveness of the UK Product Safety system that underpins the UK economy.
CTSI has been campaigning and raising awareness of gaps in the product safety system in the UK for more than a decade during which Local Trading Standards Services have been battling a marketplace which has been flooded by unsafe and substandard goods; while also contending with cuts to Trading Standards resources of more than 50% during this period. We welcome the opportunity to work with the Office for Product Safety and Standards to address concerns raised in the recent Public Accounts Committee report around weaknesses and limited data intelligence in the UK's overall product safety regime. You can read more on the CTSI website.
CTSI will be engaging with Lead Officers and members to coordinate a response to the review.
---
Putting legal metrology on the map
CTSI is taking part in a joint policy project with the UK Weighing Federation (UKWF), carrying out research to raise the profile of legal metrology within the UK. Introductory meetings have been held with both the UKWF and the Office for Product Safety and Standards (OPSS), and initial research stages for the project have begun within the CTSI policy team. CTSI has also worked on a reactive release around the publication of the annual OPSS Section 70 report, which contains key data about weights and measures infrastructure in the UK.
---