News
Porthcawl teenagers are national consumer champions 2015
Posted 06/07/15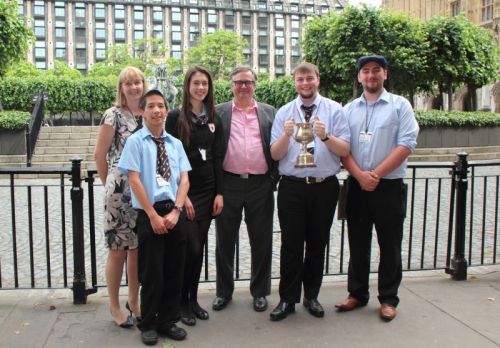 Students from Porthcawl Comprehensive School beat tough competition from six other schools in the grand finals of Young Consumers of the Year competition on Thursday 25 June held at the House of Commons.
Hundreds of schools from across the country entered the competition to find Britain's best-informed young consumers. Seven teams of four 14 to 17-year-olds made it to the finals of this knockout consumer quiz after coming top in qualifying heats and regional finals. 
The winning team from Porthcawl was made up of Jack Bridger, Nat King, Matthew Dang and Felicity Williamson-Sarll who each took home a £50 gift voucher, a goody bag of prizes plus the College of Fellows trophy and £1,000 for their school.
Sarah-Jane James, Business Studies teacher at Porthcawl Comprehensive School said: "The team has been independent, committed and have worked extra hours putting a lot of time into the competition. They beat 11 local schools at the regional finals in Cardiff and I'm amazed with their knowledge and understanding. The Young Consumers of the Year competition is a fantastic competition which students can gain a great deal from and the team thoroughly enjoyed the two days in London learning about consumer law."
Porthcawl Comprehensive School reached the final by winning a tough semi-final and then clinched the title after pulling ahead of the other teams in the early rounds. They went on to the finals beating Ayr Academy (2nd place) from Scotland and Chepstow School (3rd place) from Wales and winning the competition. Abbey Grange Academy from Leeds came in fourth.
Young Consumers of the Year, organised by CTSI, offers young people the chance to show their awareness of their environment, and their ability to be streetwise about what they eat, what and how they buy and how they manage their money.
This year the competition was an impressive two day event with special guest celebrity Charlie Higson, television and BBC radio personality, leading each round as quizmaster. The first round started in The Department for Business, Innovation & Skills (BIS) Conference Centre with the teams competing in four hour long challenges and a treasure hunt spanning across key London attractions. The points from each round were recorded and put towards the final quiz. 
House of Commons was the location for round two of the competition and grand final quiz. Teams then had the luxury of being treated to a barbeque lunch aboard the Elizabethan luxury charter at Westminster Pier followed by speeches, presentations to the winners and celebrations. 
CTSI chief executive Leon Livermore said: "It is fantastic to see so many young people take part in this event. I'm confident that the knowledge they gain will stand them in good stead for their life ahead as consumers or indeed as good business people. In today's increasingly complex world, it is becoming more and more important for everyone to know about their rights and responsibilities so they can stand up for themselves and make informed decisions.   
"It was a very exciting final. Congratulations to Porthcawl Comprehensive School; very well done!"
Main Competition Sponsor.
Notes for Editors:
1st place Porthcawl Comprehensive School, 2nd place Ayr Academy, 3rd place Chepstow School, 4th Abbey Grange Academy, 5th place Wrotham School, 6th Swanshurst School, 7th St Paul's Academy.
Wednesday 24th June was the first day of competition held at BIS Conference Centre, there were four challenges and one treasure hunt. The schools spent an hour on each challenge to build up their points to get through to the final quiz.
Thursday 25th June was the final day of competition with the quiz held at the House of Commons and the awards presentation held on the Elizabethan boat.
Pictured from left to right: Carol Brady CTSI chairman of the board, Matthew Dang, Felicity Williamson-Sarll, Charlie Higson Celebrity Question Master, Jake Bridger and Nat King.
More photographs available on request.
For more information please contact press office at pressoffice@tsi.org.uk or 01268 582240. Follow us on Twitter @ctsi_uk or #CTSIConf
---