News
Charity worker who supported scam victims is awarded for her efforts
Posted 30/06/16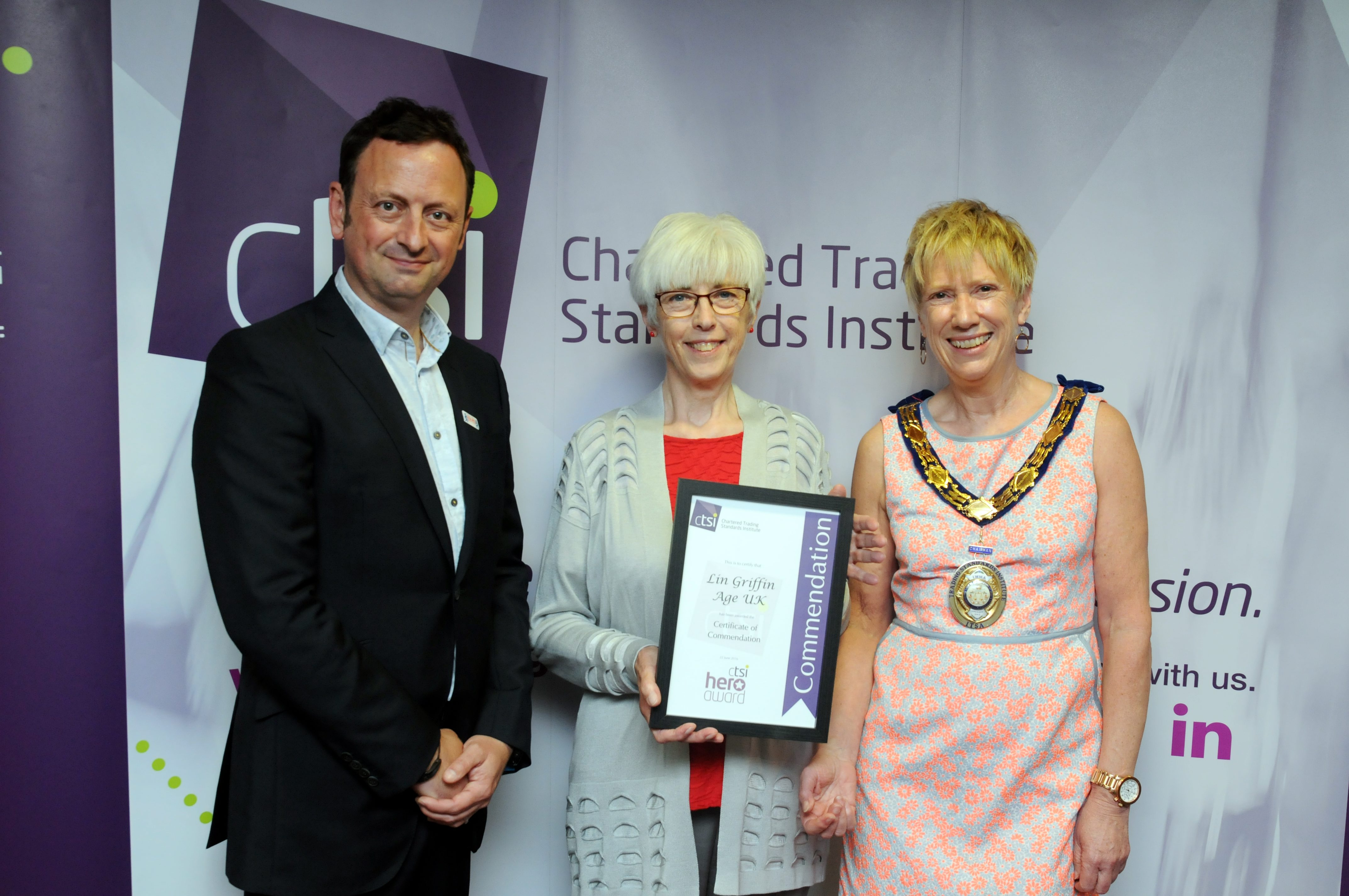 Trading standards experts have recognised a charity worker after she helped more than 80 elderly and vulnerable people, who had appeared on a so-called suckers list, from becoming repeatedly targeted by scammers.
Lin Griffin, from Age UK in Taunton, Somerset, has received a certificate of commendation from the Chartered Trading Standards Institute (CTSI).
Working on a project with North Somerset trading standards, Lin met with each person from the community that was named on the list and worked tirelessly to build their trust and restore their confidence and self-worth.
In addition, Lin discovered the husband of an elderly scam victim was also responding to a mail marketing scam and had lost £20,000 of their life savings. Lin was instrumental in getting their lives back to normal.
Leon Livermore, CTSI chief executive, said: "About 53 per cent of people aged over 65 have been targeted by scammers but it is important to remember that anyone can fall victim.
"Lin has gone above and beyond what is expected of her reinstating their faith in the community and protecting individuals from falling into a trap that so many scam victims often find themselves in."
Hero awards celebrate outstanding contributions to consumer protection by individuals or groups of people and are nominated by the trading standards community.
Helen Heskins, the trading standards officer at North Somerset who made the nomination, said: "Lin was a great find. She took the subject of scams, applied her own knowledge, sharpened her elbows and got fantastic results for our residents.
"She does not just walk away when the boxes can be ticked, she uses her instincts to spot the high risk victims, who are often in denial, and knows when to refer to others and when to support the person.
"I doubt that I will find another support worker who is as committed to doing the right thing, however difficult it may be to achieve."
Nine Hero awards and three certificates of commendation were presented during this year's CTSI Consumer Affairs and Trading Standards Conference and Exhibition in Telford, West Midlands, last week.
Lin said: "Working alongside North Somerset trading standards on behalf of Age UK Somerset has been a huge challenge but there is also great satisfaction in reaching people who have been scammed.
"I visit them at home, sometimes over several months and find them new interests to help them regain their self-confidence and refer them on to various agencies as required.
"I also give talks to various groups to help make people aware not only of the numerous scams out there but also that that it is not gullibility or stupidity on the part of the person who has been scammed but the plausibility and sophistication of the scams being perpetrated on the elderly and isolated."
ENDS
Notes to editor:
Pictured from left to right: Matt Allwright, Lin Griffin and Christine Heemskerk CTSI chair.
---