News
Specialist crime unit recognised by trading standards experts
Posted 30/06/16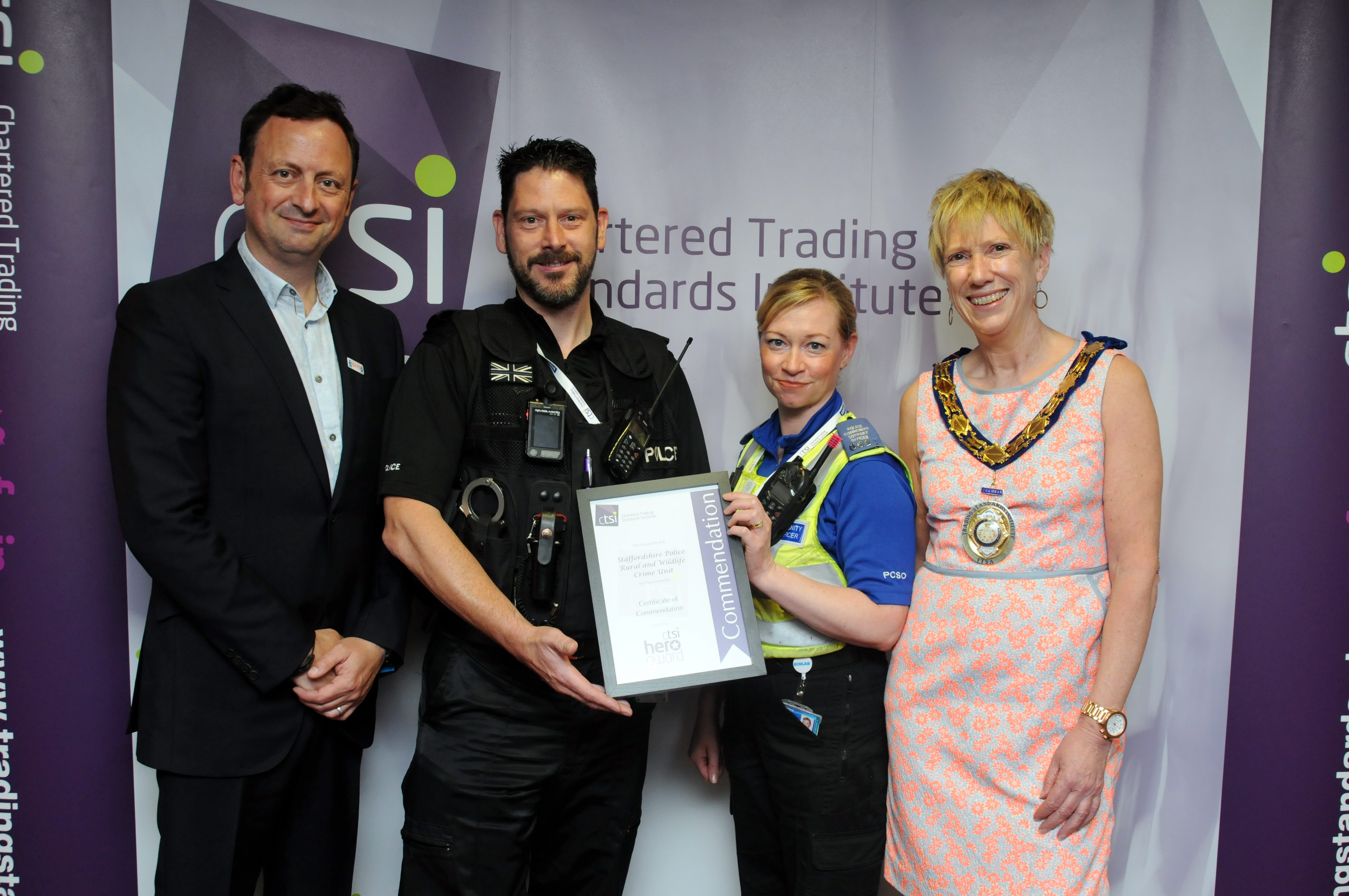 A specialist team has been praised after helping to prosecute a business that put animal by-products back into the food chain and a pet crematorium manager who failed to return ashes.
Staffordshire Police Rural and Wildlife Crime Unit has been presented with a certificate of commendation by the Chartered Trading Standards Institute (CTSI).
The unit was nominated after supporting several Staffordshire County Council animal health and welfare prosecutions - a statutory duty discharged by the trading standards profession.
Leon Livermore, CTSI chief executive, said: "Trading standards play a vital role in safeguarding our food chain and preventing the outbreak of diseases but they cannot do it alone.
"It is heart-breaking to think that animals and their owners can be treated so appallingly but it is because of units like Staffordshire that the health and well-being of animals, and consumers, are protected."
Hero awards celebrate outstanding contributions to consumer protection by individuals or groups and are nominated by the trading standards community.
The unit was nominated by Staffordshire County Council after it supported the local authority on a number of animal health and welfare investigations.  
In particular, they assisted with a complex investigation into a pet crematory owner who stored animals in a domestic chest freezer and failed to return pets' ashes to their owners.
The man admitted five charges of fraud and four animal by-product offences. He was ordered to pay £7,000 and was given a 12-month community order with 200 hours' unpaid work.
Staffordshire Police Rural and Wildlife Crime Unit has also set up a group of voluntary bodies, charities and agencies who together applied an intelligence-led approach to investigations in rural communities.
Stephanie Young, a CTSI lead officer for animal health and welfare who made the nomination, said: "The team's ongoing commitment to trading standards and their support in tackling rural located crime has been beyond valuable.
"The relationship with officers from the unit, along with links with voluntary groups in these areas, has meant that the community remains protected and criminals are brought to justice." 
Nine Hero awards and three certificates of commendation are being presented during this year's CTSI Consumer Affairs and Trading Standards Conference and Exhibition in Telford, West Midlands, last week.
A spokesperson for Staffordshire Police Rural and Wildlife Crime Unit said: "We are very proud to accept this award. 
"The team are fully dedicated to tackling all rural and wildlife crime and it's results like this that make it all worthwhile."
Notes for Editors: 
Staffordshire Police Rural and Wildlife Crime Unit https://www.staffordshire.police.uk/article/2050/Rural-and-Wildlife-Crime 
Pictured from left to right: Matt Allwright, PCSO Louise Jones, PC Peter Clarke from Staffordshire Police and Christine Heemskerk CTSI chair.
ENDS
---