News
Trading standards success in reducing the prevalence of new psychoactive substances (NPS)
Posted 07/09/16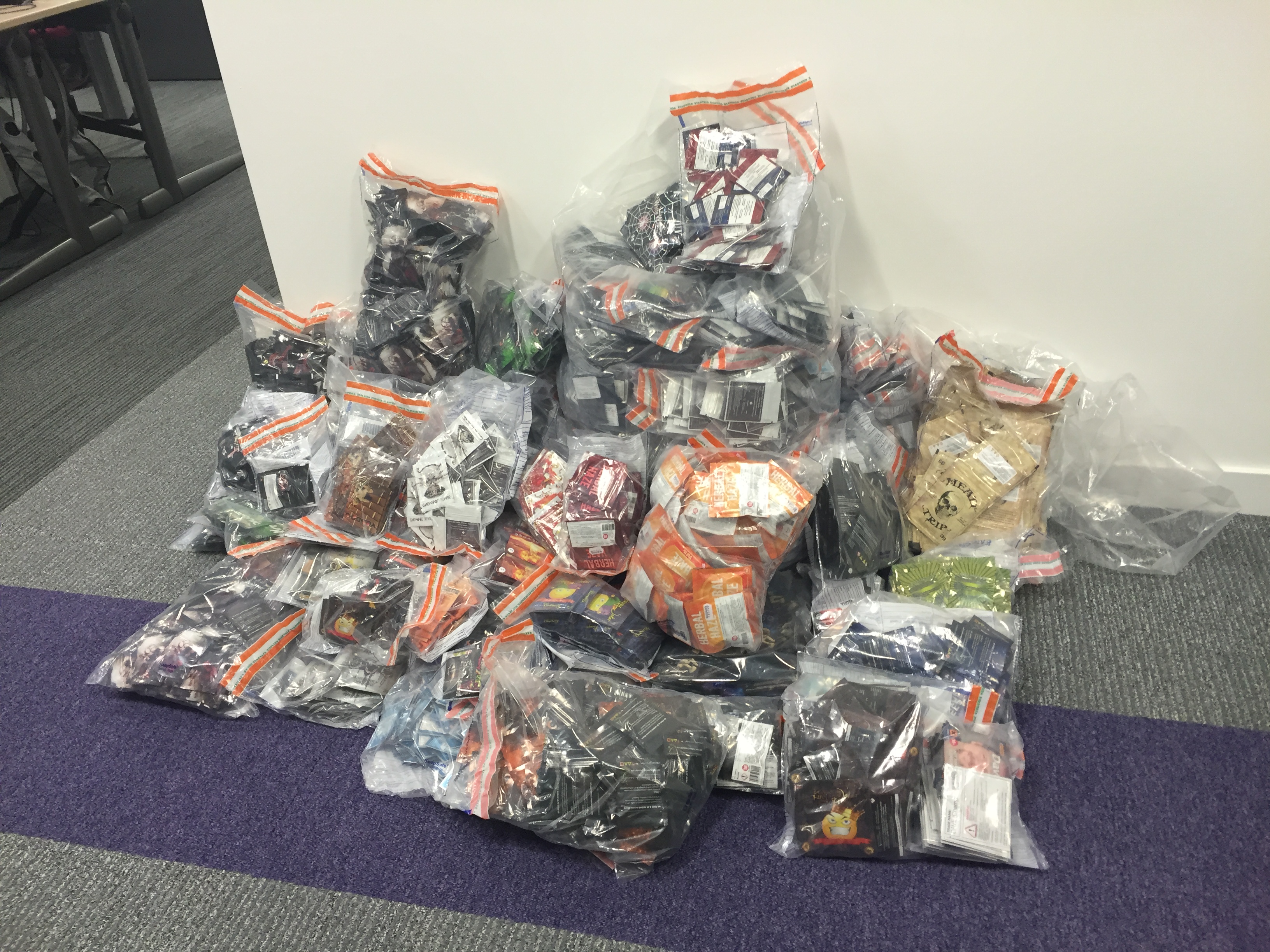 In December 2015, Scottish local authority Trading Standards Services undertook an enforcement exercise, code named Operation Alexander, to curb the sale of dangerous new psychoactive substances.
The action was in response to the growth in evidence showing the harm that unsafe NPS products can cause to people who consume them for their psychoactive effects. It was endorsed and funded by the Scottish Government and jointly co-ordinated by SCOTSS (the Society of Chief Officers for Trading Standards in Scotland) and Trading Standards Scotland. 53 premises were targeted over 19 local authorities, with 7,323 products seized or sampled worth £146,460.
Statistics released by the registered charity, Scottish Families Affected by Alcohol and Drugs (SFAD), now reveal that there has been a significant reduction in the number of callers to their helpline, citing NPS as the substance being used. Across Scotland, NPS is currently the 15th most mentioned substance that callers to the SFAD helpline are concerned about; this is a drop of 10 places from 2015-2016.
Following the actions taken by Trading Standards, only 1 call to the SFAD helpline was received in Q1 of 2016-2017. Given that the total prohibition on sales of NPS only took effect on 26th May 2016, when the Psychoactive Substances Act 2016 came into force, this indicates both the impact and effectiveness of co-ordinated action by the local authority regulators.
Aberdeen's Alcohol and Drugs Action are now reporting that just 1.5% of clients are presenting stating NPS as their primary drug. This is down from 15% in Q1 last year.
A number of local authority Trading Standards Services have, following last December's operation, secured forfeiture orders through the Sheriff courts, in terms of the General Product Safety Regulations 2005; the NPS products seized can now be safely and securely destroyed.
Peter Adamson, Chair of SCOTSS and Trading Standards Manager at Moray Council said:
"Action by Council's Trading Standards services, Trading Standards Scotland and Police Scotland shows how effective partnership working can bring about real change to protect the public from dangerous products and harmful trading practices. Aberdeen and Edinburgh Trading Standards deserve special praise for their work to halt the supply of NPS."
Fiona Richardson, Chief Officer of Trading Standards Scotland added:
"Our work on the Scottish Government's Expert Legal Review led to a Trading Standards toolkit that formed the blueprint for taking action. With Scottish Government grant funding for Operation Alexander we were then able to co-ordinate sampling and toxicology reports for local authority Trading Standards Services. The acute reduction in number of those harmed by NPS in early 2016 is a fantastic result and a ringing endorsement of coordinated joint working between Trading Standards Services with Scottish Government support".
Aileen Campbell, Minister for Public Health and Sport, said:
"This was a wide-ranging operation that made a real impact on the amount of these products in circulation. I am grateful to all those involved, who not only removed NPS from our high streets, but also helped to prepare our enforcement agencies ahead of the ban on NPS last May.
"It's encouraging that there are early signs of a reduction in the number of NPS calls to the Scottish Families Against Drugs helpline. Of course we are not complacent, and we will continue to work with all our partners to reduce the availability of these potentially deadly substances, and to raise awareness of their dangers."
ENDS
Notes to editors
• The Society of Chief Officers of Trading Standards in Scotland (SCOTSS) is the professional body representing the lead officers for Scottish local authority Trading Standards Services.
• Trading Standards Scotland's (TSS) role is to protect consumers in Scotland. They do this by taking intelligence led enforcement action against traders that cause significant consumer detriment across Scottish local authority boundaries. TSS host the National Intelligence Database for Trading Standards in the UK.
• The Local Authorities Taking Part in Operation Alexander were; Aberdeen City, Aberdeenshire. Angus Council, City Of Edinburgh, Dundee, East Ayrshire, East Lothian, Falkirk, Fife, Glasgow City, Highland, Midlothian, North Ayrshire, North Lanarkshire, Perth & Kinross, Renfrewshire, South Ayrshire, South Lanarkshire and Stirling.
• Action was taken under the General Product Safety Regulations 2005 as it was reasonably suspected that NPS products failed the general safety requirement for consumer products.
• Since the coming into force of the Psychoactive Substances Act 2016, Police Scotland are taking the lead on NPS matters; however, local authority Trading Standards Services remain committed to liaising and joint working on such matters, where intelligence informs the need and local authority resources allow.
• Scottish Families Affected by Alcohol and Drugs (SFAD) is a registered Scottish charity and exists to support those affected by the substance misuse of a loved one. SFAD facilitates a Scotland-wide network of family support groups and runs a helpline service on freephone 08080 101011
Ken Daly
SCOTSS National Coordinator
07720538349
@socotss
www.scotss.org
www.tradingstandards.scot
---