News
Knives sold to children as young as 13 in London test purchasing
Posted 08/03/17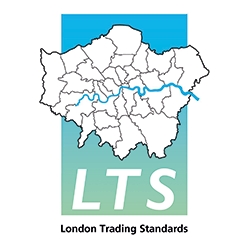 Figures published by London Trading Standards show children as young as 13 were able to buy knives in test purchasing carried out across the capital. It is illegal to sell knives to anyone under 18.
During the whole of 2016, 725 test purchases were carried out by London Trading Standards and the Metropolitan Police using child volunteers. The vast majority of shops visited refused to sell, but 96 retailers sold knives and bladed articles to children as young as 13.
Trading Standards Officers carried out the test purchasing as part of the crime prevention element of 'Operation Sceptre'. This Metropolitan Police initiative is aimed at reducing knife crime and reducing the number families affected by knife crime. In many cases young Police Cadets assisted with the work. The average age of the volunteers was 14 years.
As a result of the sales 19 traders were prosecuted by Trading Standards, or have cases pending, whilst others received official warnings and compliance advice.
Minister for Vulnerability, Safeguarding and Countering Extremism Sarah Newton said:
"Selling knives to children is illegal and I am delighted that London Trading Standards are taking action to enforce this and have found that the vast majority of retailers are complying with the law.
"Knife crime can have devastating consequences and this Government is acting against it, including banning the sale of so-called 'zombie-knives', supporting Operation Sceptre and expanding our work with retailers to stop the underage sale of knives. But the results of these test purchases shows there is still more to be done and we will continue to work together to do all we can to keep our children and communities safe."
Steve Playle, a spokesperson for London Trading Standards said:
"This partnership work to tackle the supply of knives to children has utilised London Trading Standards expertise in conducting test purchasing. Whilst it is commendable that 87% of shops refused to sell it is concerning that children as young as 13 were actually sold knives.
The illegal sale of knives can significantly impact on the health, safety and welfare of young people and the communities in which they live, so it's important that we work together to prevent them.
Our officers are always willing to help retailers with training or practical compliance advice on avoiding underage sales and we recommend adopting a challenge 25 policy and checking ID when selling knives.
Trading Standards Officers across London enforce laws to tackle the sale of age restricted products such as knives, alcohol and tobacco. However significant cuts to front line staff and funding makes it an ever more challenging job – particularly with competing priorities such as the sale of fake and unsafe goods, scams, rogue traders and doorstep crime.
Despite these difficulties our teams remain determined to tackle the issues putting Londoners at risk and will continue to support Operation Sceptre activities in 2017.
Anyone with information about shops that sell age restricted products to children can report it anonymously via the London Trading Standards reporting tool at www.londontradingstandards.org.uk"
Chief Inspector of the Metropolitan Police's Trident Central Gangs Command Gary Anderson said:
"The most recent phase of Operation Sceptre in January 2017 involved around 2,000 activities across the capital to tackle knife crime, 65 of which were test purchases conducted by police in partnership with London Trading Standards Officers.
"As a result, 14 knives were purchased by our under-aged volunteers. The retailers who sold the knives were dealt with by the local Trading Standards Officers, present on the day".
"Through the delivery of education programmes and targeted work on boroughs we have successfully managed to reduce the volume of gang-related knife crime. However, more work still needs to be done and we remain committed to working in partnership with Trading Standards to prevent knives from reaching dangerous hands and to reduce the number of families devastated by knife crime in London."

Ends
Editors notes:
• London Trading Standards is the membership organisation for all 33 Local Authority Trading Standards Services in the London Region
• Examples of London Trading Standards prosecution results from 2016:

 • The sale of knives, knife blades, razor blades, and axes to anyone under 18 is prohibited by the Criminal Justice Act 1988 (offensive weapons) as amended by the Offensive Weapons Act 1996 and Violent Crime Reduction Act 2006 with the exception of : 
• Anyone can report underage sales of age restricted products anonymously via the LTS Report Consumer Crime Tool at www.londontradingstandards.org.uk/report-consumer-crime/
• Robust age verification by retailers will prevent illegal underage sales - London Trading Standards supports the use of PASS approved proof of age cards such as the Proof Of Age London (PAL) card
• Retailer advice can be found at the trading standards business companion website
• In March 2016 the government launched a voluntary agreement with major retailers on a set of principles to prevent the underage sale of knives in their stores and through their websites
• Further details about LTS underage sales work can be found at londontradingstandards.org.uk/underage-sales/
• Further details about Operation Sceptre can be found at the Metropolitan Police website
• Sarah Newton was appointed as Parliamentary Under Secretary of State at the Home Office on 17 July 2016. She was elected Conservative MP for Truro and Falmouth in May 2010.
Contact Details
London Trading Standards - media@londontradingstandards.org.uk
Spokesperson Steve Playle – 07968 834 647
Other legal controls on knifes - some types of knives cannot be sold to anyone of any age:
• Flick knives - knives where the blade is hidden inside the handle and shoots out when a button is pressed. These are also called switchblades or automatic knives
• Butterfly knives - knives where the blade is hidden inside a handle that splits in two around it, like wings. The handles swing around the blade to open or close it
• Disguised knives - knives where the blade is hidden inside something like a belt buckle or a fake mobile phone
The marketing of a knife in a way which suggests it is suitable for combat or otherwise encourages violent behaviour using the knife as a weapon is also prohibited.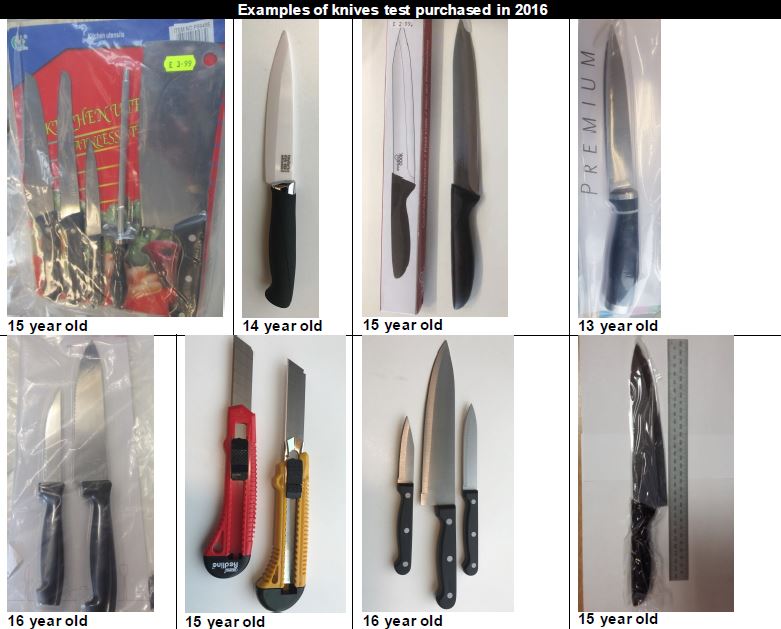 ---