News
Animal ban for 'horror' farm couple
Posted 04/10/17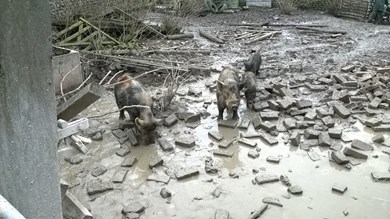 A couple who kept pigs and sheep in 'horrific' conditions at their East Sussex farm have been handed suspended jail terms.
Dr John Penn, 76, and wife Teresa Penn, 77, were also banned from keeping farm animals for 10 years in a hearing at Brighton Magistrates' Court.
Conditions at Court House Farm, in Lewes Road, Piddinghoe, were so bad, pigs were found feeding on the flesh of dead pigs which had been left amid debris-strewn areas of the farm.
More than 20 pigs had to be culled after being left without adequate food, water and shelter, living among debris, bricks, barbed wire and planks of wood.
Richard Strawson, East Sussex County Council Trading Standards team manager, said: "These were some of the most horrific conditions we've ever experienced and seeing pigs feeding off dead pigs was particularly shocking and upsetting."
The couple were issued with improvement notices giving them the opportunity to remedy the issues raised, but failed to do so.
They admitted 12 offences under animal welfare legislation and were each handed three 18-month jail sentences, suspended for 12 months and to be served concurrently.
The couple's 10-year ban on keeping farm animals was suspended for eight weeks to allow them to dispose of their remaining pigs and sheep. They were ordered to pay court costs of £1,157 and each to pay a £115 victim surcharge.
Cllr Bill Bentley, county council lead member for communities and safety, said: "The vast majority of farmers treat their animals well and cases like this are rare.
"Our Trading Standards officers have carried out a professional enquiry which led to this successful prosecution and this case demonstrates that we won't hesitate to take the strongest possible action when it comes to mistreatment of animals."
The Penns were each convicted of two offences under the Animal Welfare Act, three breaches of the Animal By-product Regulations and seven breaches of the Welfare of Farmed Animal (England) Regulations.
---