News
Business Companion publish consumer rights video guide for used car traders
Posted 05/10/17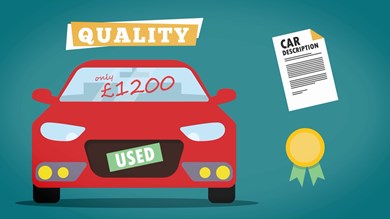 Trading standards experts have today published a new video guide aimed at used car traders to ensure consumers and businesses are protected under the Consumer Rights Act. The guide appears on the government-backed Business Companion website, produced by the Chartered Trading Standards Institute (CTSI).
In addition to addressing common complaints from consumers, the video highlights useful areas of the Business Companion website. It comes as Citizens Advice publishes Consumer Advice Trends registering 55,924 complaints₁ against used vehicles in the last year.
Adrian Simpson, CTSI business education and consumer codes expert, said: "With more than eight million used cars sold in the UK last year alone₂, it's vitally important that dealerships and traders know their responsibilities to buyers. A majority of complaints the motor industry receives are about faults developing within 30 days of purchase, often signifying a vehicle is not of a satisfactory condition."
"Traders must consider the condition of vehicles they sell, and be prepared to rectify any issues that arise from sub-standard quality. Our latest video is designed as a quick reference guide, and an invitation to access Business Companion's extensive and free resources."
Consumer law can be daunting to even the most experienced businesses. Business Companion's videos and website offers important, up-to-date consumer rights information accessible to everyone.
---