News
Help save 10 years of a child's life and win £1000
Posted 09/02/15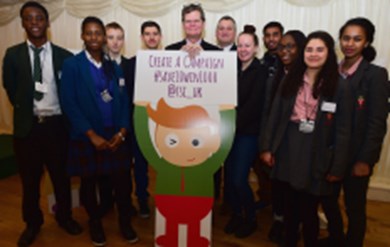 The Trading Standards Institute (TSI) is calling on young people to educate their peers and local businesses about the dangers of alcohol and tobacco products through the launch of a brand new competition, sponsored by Waitrose.
'Create a campaign' is a competition for school pupils from across England to design a campaign blueprint discouraging alcohol use and smoking among children. Alternatively, students can create a campaign to encourage local businesses to comply with their legal obligations to not sell age-restricted goods to children.
Each day, 
567
 UK children take up smoking. Fifty-eight per cent of adults who have a heavy smoking habit (more than 20 cigarettes a day) started before they were 16 and 80% of all smokers started before the age of 20. The longer and heavier someone has smoked, the more likely they are to develop preventable related illnesses, and statistics indicate that, on average, lifelong smokers will lose 10 years off their lives. 
Meanwhile, consuming alcohol at a young age has been shown to create a gateway to substance abuse, with children who drink being 50 times more likely to try cocaine than their peers who never drink. 
The impact on society is huge; alcohol misuse is estimated to cost the NHS £3.5bn per year, while smoking costs the NHS between 2.7bn to £5.2bn per year. 
Although consumers must be over the age of 18 to purchase alcohol and tobacco products, half of the 15 year-old smokers surveyed still said that shops were a regular source. While trading standards officers are a core element in combating underage sales, TSI's 
Workforce survey
 shows that numbers of trading standards officers have been cut by 45% since 2009.
TSI chief executive Leon Livermore said: "Prevention and early intervention not only saves the tax-payer money, it saves lives. At the heart of this competition is the little known fact that a small investment in trading standards can have a huge impact on reducing wider healthcare costs in the future. 
"The preventative nature of trading standards' work can sometimes go unnoticed, resulting in ongoing disproportionate cuts to the service and extra cost to tax payers. While we at TSI continue to address this issue among the key policy makers of today, I am delighted a new generation, participating in this competition, is learning about the real value our profession provides.
"I wish all competing schools the greatest of luck and look forward to meeting the winners in Bournemouth at our annual Conference."
Rosanna O'Connor, director of alcohol, drugs and tobacco division, Public Health England, said: "While the numbers of young people smoking and drinking and taking drugs continues to fall, down considerably over the last ten years, overall numbers are still a concern. 
"The behaviours young people develop in their early years impact their life-long health and wellbeing. Ensuring school pupils are informed and inspired to make the right decisions for their health is vital, and campaigns by young people for young people are shown to be the most effective way to do this. " 
James Brodhurst-Brown, Regulatory Affairs & Trading Law Manager for Waitrose said: "Waitrose is committed to the responsible sale of alcohol and tobacco and applies the industry best practice Challenge 25 to every sale. We're very pleased to help raise awareness of this important issue and wish the candidates the best of luck with their entries."
The competition was launched at the '10 years of a child's life – saved!' event held at the Terrace Pavilion, Palace of Westminster on 4 February 2015 in partnership with Drinkaware and Mentor UK and was sponsored by Stephen Lloyd MP. 
Schools looking to participate in the competition should visit our 
page
 for more information.  
ENDS
Notes for Editors:
Speakers at the '10 years of a child's life – saved' event were Under Secretary of State for Health Jane Ellison, director of Tobacco and Alcohol at Public Health England Rosanna O'Connor, TSI chief executive Leon Livermore, Member of Youth Parliament Toby Jeffery and inspirational speaker Kelly Brand. 
Join the conversation online: #Save10Win1000
For further information or to arrange an interview please contact the TSI press office on 01268 582214 or
pressoffice@tsi.org.uk
Photo inset: Stephen Lloyd MP, TSI chief executive Leon Livermore, pupils from Mount Carmel Catholic College for Girls and St Aloysius' College Islington Police Cadets.
---