News
CMA publish study on price comparison services
Posted 26/09/17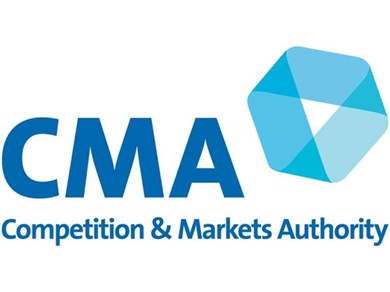 The Competition and Markets Authority (CMA) today issued the results of a market study into Digital Comparison Tools (DCTs). The study, which began last September, sets out a number of updated recommendations to regulators for improving the benefits of DCTs and addressing concerns raised by consumers.
Price comparison websites and apps are used by consumers to compare prices and switch between products and services offered by a variety of companies. 85 percent of consumers who were surveyed as part of the study have used price comparison websites or apps at some point. DCTs encourage consumers to 'shop around', particularly in sectors where engagement is usually lower. DCTs also strengthens competition, leading to lower prices, more choice, and a better chance for smaller, emerging suppliers.
The CMA's study considered the role DCTs play on the marketplace, and how their benefits could be maximised. This involved four potential avenues of approach;
Maximising consumer confidence and building trust
Improving DCTs' access to necessary inputs
Making competition more effective
Improving regulations
Andrea Coscelli, CMA Chief Executive, said: "Our study has found that most people in the UK have used a comparison site at least once so it is vital that everyone gets the benefits they deserve. We have set out ground rules for how sites should behave, as well as being clear on how regulators can ensure people have a better experience online."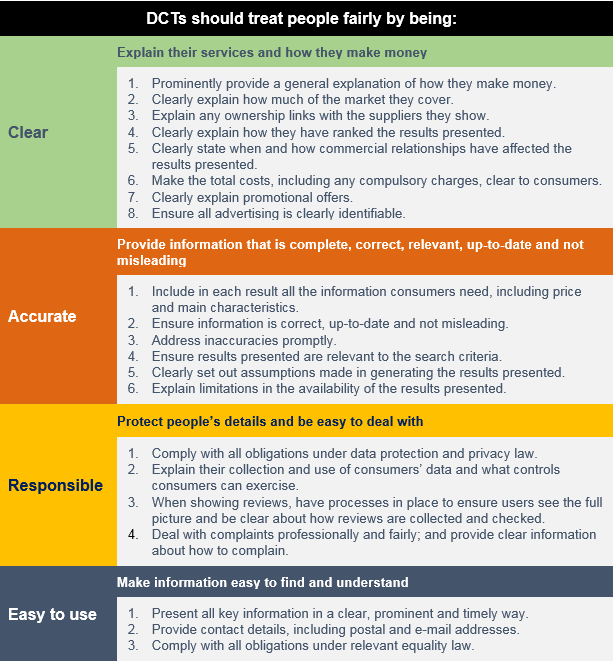 The CMA published a set of principles (or 'ground rules') to go hand in hand with their recommendations. The principles clarify how DCTs should treat consumers fairly by being Clear, Accurate, Responsible and Easy to use (CARE). The CMA has recommended all regulators regard the CARE principles when assessing compliance with the law by DCTs of all sectors.
The CMA further recommend that all sites should be clear about how they make money; how many deals they're displaying and how they are ordering the results. It should be made as easy as possible for people to make effective comparisons or use different sites, for example through better information about products. Sites should also be clear on how they protect personal information and how people can control its use.
In addition to issuing recommendations, the CMA announced an investigation into one price comparison site. The CMA have concerns over how the subject website sets up contracts with its insurers, suspecting deals may result in higher home insurance prices. Coscelli added: "we suspect the law may have been broken."
---