News
"Tried-and-tested scams still pose huge threat" says Citizens Advice, as fraudsters on average pocket almost £3,000 per victim
Posted 11/06/19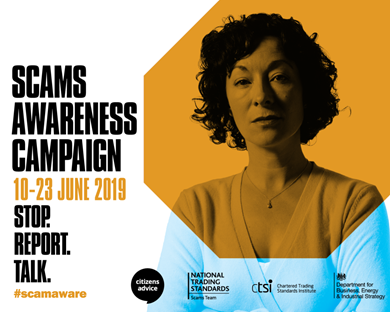 Over 11,000 complaints were made to Citizens Advice consumer service last year by people suspicious about possible offline scams.
These classic tactics from the scammers' playbook include unsolicited doorstep selling, mail and cold calling, and saw people lose an average of almost £3,000. Scams sent through the post resulted in the highest average loss at £5,435.
Citizens Advice found that, despite an overall increase in online scams, more than half (58%) of scams reported to the charity in the last year were using these well-established methods. Fraudsters using these methods are known to overwhelmingly target older, more vulnerable people.
A total of 19,500 scams were reported to the charity's consumer service in 2018, an 8% increase from the year before.
Additional polling commissioned by Citizens Advice showed six in 10 people (61%) reported being targeted by a scam in the past two years. Of those targeted, less than half (48%) said they told anyone about it.  
Christine, 70, from West Sussex was scammed by two men who knocked on her front door: 
"Since my husband passed away I've not kept up with work on the outside of the house - that was always his job. So when two men knocked on my door saying my gutters needed cleaning and roof tiles needed replacing urgently I agreed, and handed over £520 in cash.
"When they said they were finished I went to look at their work but one distracted me by saying he'd give me a certificate for a 10-year guarantee. But when he went to the van to get it, he just drove off. I looked at the gutters and I could still see the weeds, and nothing had changed with the roof. I was clearly scammed.
"The worst part was that it didn't seem, or feel, like a scam. They looked professional and said they'd completed work on my neighbours' houses. People need to speak up about this sort of thing. Had I known the warning signs of scams - like being asked to pay up front in cash - alarm bells would've rung and I'd have thought twice about handing over my money."
Under the slogan "Stop, report, talk: Be #scamaware" Citizens Advice and Trading Standards have launched their annual Scams Awareness campaign to encourage people to talk about their experiences and look out for others.
Gillian Guy, Chief Executive of Citizens Advice, said: 
"Tried-and-tested scams still pose a huge threat. Even in this digital age where online scams are on the rise, scammers are continuing to use traditional routes to prey on people. Tactics like doorstep selling, sending unsolicited letters and cold calling give scammers the opportunity to build a relationship with their victim. Unfortunately, it's usually more vulnerable and isolated people who are affected.
"The gap between the number of people recognising they've been targeted and those actually speaking up it about shows the importance of this Scams Awareness campaign. We must work together to combat fraudsters by being more open about scams and helping each other understand what to look for."
Leon Livermore, Chief Executive of Chartered Trading Standards Institute, said: 
"With newer, more sophisticated scam techniques often dominating headlines, it's easy to forget that 'tried-and-tested' scams are still out there, and are just as dangerous as they have always been – especially for the most vulnerable within society."
"Through campaigns like Scams Awareness, and initiatives like Friends Against Scams, we can inform and arm consumers with the power to spot potential threats, so they know where to turn if they need help."
Lord Toby Harris, Chair, of National Trading Standards, said:   
"As more of our day-to-day activity takes place online, a lot of attention is rightly focused on online scams that can catch people out. However, the more traditional scams – from doorstep cold-callers to mail fraud – have not disappeared. Instead, we're seeing these scams increasing as criminals adopt more sophisticated techniques to avoid detection, such as sending scam mail via third party countries and using of 'blank' envelopes.
"Importantly, these types of offline scams can cause significant harm emotionally as well as financially, particularly when people – often in vulnerable situations – are deceived and put under pressure in their own home. That's why we've launched the Friends Against Scams initiative, which provides training and support to empower people to take a stand against scams: www.friendsagainstscams.org.uk.
"We believe that the number of complaints about these scams is the tip of the iceberg – only five per cent of scams are reported. That's why we're calling on communities to look out for anything suspicious and report suspected scams to the Citizens Advice consumer service on 03454 04 05 06.
If you're worried that someone you know has become victim to a scam, look out for the following. Are they:
Receiving more mail than usual?

Receiving unsolicited calls or spending more time on the phone?

Struggling with money or have they withdrawn large amounts of cash recently?
If you think someone you know is being scammed, take the following steps:
If you're worried about telephone scams look into installing a call blocker

Encourage them to tell their bank immediately if there is any suspicious activity or transactions from their account or credit cards

Report the scam to the Citizens Advice Consumer Service online or by phone on 03454 04 05 06. They will give you advice on what to do next and report the scam to Trading Standards
Report the scam to Action Fraud on 0300 123 2040
If they're struggling to pay bills or outstanding debts encourage them to visit their local Citizens Advice
You can also take the following steps to safeguard yourself and others:
Be suspicious if you're contacted out of the blue, even if it's from a name you recognise

If it sounds too good to be true it probably is

Never send money to someone you've never met

Never give out your bank details unless you are certain you can trust the person contacting you

Don't be rushed – you never need to make a decision straight away and if you feel pressured say "no"

Suspect a scam? Hang up, wait five minutes to clear the line or use another phone to call

Don't suffer in silence – speak out about scams
Citizens Advice is urging anyone who thinks they may have been targeted by a scam to report it to the Citizens Advice consumer service on 03454 04 05 06, or 03454 04 05 05 for Welsh language speakers. Citizens Advice will give advice on what to do next and report the scam to Trading Standards.
Scams can also be reported to Action Fraud, the national fraud reporting centre.
Notes to editors
Published on behalf of Citizens Advice.
1. Case studies, commentators and images are available on request
2. 19,496 potential scam cases were reported to the Citizens Advice consumer service in 2018, an 8% increase on the 18,075 reported in 2017. All figures in relation to total number of scams relate to year-on-year data.
3. Further analysis of data relates to the Citizens Advice consumer service figures between July and September 2018.
4. Citizens Advice commissioned Populus who conducted an online sample of 2,016 GB adults 18+ between 24th and 27th May 2019.  Data is weighted to be representative of the population of Great Britain. Targets for quotas and weights are taken from the National Readership Survey, a random probability F2F survey conducted annually with 34,000 adults.  Populus is a founder member of the British Polling Council and abides by it rules. For further information see http://www.britishpollingcouncil.org/
5. Figures regarding demographic makeup of those affected by scams can be found in Citizens Advice 2017 research 'Changing the story on scams.'
6. Scams Awareness is an annual campaign which aims to create a network of confident, alert consumers who know what to do when they see a scam. This year's campaign will take place over two weeks, from the 10th-23rd June. The campaign includes a range of organisations across the Consumer Protection Partnership, including Trading Standards, the Department for Business Energy and Infrastructure, and Citizens Advice Scotland.
7. Citizens Advice includes the national charity; the network of independent local Citizens Advice charities across England and Wales; the Citizens Advice consumer service; and the Witness Service.
8. Citizens Advice is the statutory consumer advocate for energy and post. We provide supplier performance information to consumers and policy analysis to decision makers.
9. The Citizens Advice Witness Service provides free, independent support for prosecution and defence witnesses in every criminal court in England and Wales.
10. Citizens Advice offers Pension Wise services at 500 locations in England and Wales.
11. Citizens Advice's services are free, independent, confidential and impartial, and available to all regardless of race, gender, disability, sexual orientation, religion, age or nationality.
12. To get advice online or find your local Citizens Advice, visit citizensadvice.org.uk
13. For consumer advice, call the Citizens Advice consumer service on 03454 04 05 06 or 03454 04 05 05 to talk in Welsh.
14. We helped 2.6 million people face to face, by phone, email and webchat in 2017-18. For service statistics see our monthly publication Advice trends.
15. Citizens Advice staff are supported by over 23,000 trained volunteers, working at over 2,500 locations in England and Wales.
---