News
Take charge of battery safety, vapers urged by Office for Product Safety and Standards
Posted 17/02/20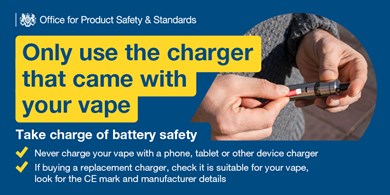 Safety concerns over the incorrect use of batteries and chargers in vapes are prompting a public awareness campaign for 'vapers' to take charge of battery safety.
The Office for Product Safety and Standards (Office) is urging vapers to follow simple safety rules to protect themselves or risk serious injury. When it comes to safely using your vape: 
only use the charger that came with your vape (never charge your vape with a phone, tablet or other device charger)
protect it vape from extreme temperatures (don't leave your vape or spare batteries in direct sunlight or in your car on a freezing cold night)
regularly inspect the batteries
stop using and replace your batteries if they get damaged, wet or leak
unplug the charger once it's fully charged
store spare batteries in a plastic case
keep spare batteries away from other metal objects like coins or keys in a pocket or bag to avoid accidental contact as this can cause a short circuit 
The Chartered Trading Standards Institute (CTSI) is working with the Office on the campaign. Chief Executive of CTSI, Leon Livermore, said: "It's very important for everyone who vapes to
take charge of their own battery safety. Injuries can be severe, but if a battery fails and explodes then obviously it's an extra hazard if it's in your mouth." 
A new Government report (February 2019) states that vaping use among adults in Great Britain is at 5.4% to 6.2% for all adults and 14.9 to 18.5% for current smokers. 
Product safety lead officer at CTSI, Mark Gardiner, said: "There has been a significant growth in the use of electronic nicotine delivery systems (ENDS) in recent years, and many of these devices are powered by what's known as a 18650-style battery. 
"There have been numerous reports of hazardous failure modes of the devices containing these batteries, resulting in serious injury and also death. 
"Where products are supplied with the battery already installed, the manufacturer of this device has generally added a battery management system to ensure safe charging and discharging. If designed correctly it will include limitations on the current drawn to ensure that the battery is never overstressed." 
Problems can arise when an unsuitable battery is used either by the retailer or when the consumer puts in a replacement, with many consumers seeking a battery which is either the cheapest available or holds the maximum charge. 
Mark added: "Many 18650-style batteries are not designed for use in vapes and some manufacturers have stated that their 18650 battery design is not intended for use in the high-power handheld devices favoured by many in the vaping community. The designation 18650 refers to the size, but nothing else, so there may be products described in this way with different chemistries and therefore different voltages. 
"It's important when replacing a battery that you check what type of battery you have and if manufacturers say it is safe for vape use." 
The explosion of what are described as electronic nicotine delivery systems (ENDS) battery compartments has led to burns, chemical burns and blast injuries to face, hands, thigh and groin. The degree of injury depends on how close people are to it when the incident occurs. 
The London Fire Brigade says that on average they attend 24 fires each week that have been started by chargers, batteries and cables. 
The Brigade states on its website that the risks around vaping tend to come from counterfeit or faulty products and poor charging practises. 
It advises that you should never mix a battery from one supplier or product with a charger from another and that you should regularly inspect your vape batteries. You shouldn't leave them to charge overnight and it's not a good idea to use them when charging either. If batteries start to get hot, discard them and do not modify products in any way. 
ENDS  
Notes for Editors:
CTSI Press Office: pressoffice@tsi.org.uk, 01268 582240. 
Citizens Advice Consumer Helpline number: 0808 223 1133. Scotland 0808 164 6000. Welsh-speaking 0808 223 1144. 
https://assets.publishing.service.gov.uk/government/uploads/system/uploads/attachment_data/file/821179/Vaping_in_England_an_evidence_update_February_2019.pdf 
https://www.bbc.co.uk/news/uk-england-essex-44017778
https://www.london-fire.gov.uk/safety/the-home/smoking/vaping-and-e-cigarettes/
---