News
John Herriman, CTSI Chief Executive discusses the launch of the BEIS consultation
Posted 20/07/21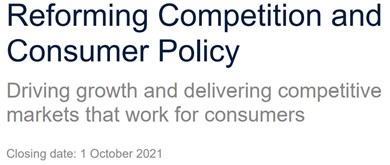 John Herriman, CTSI Chief Executive, discusses the launch of the BEIS Consultation.
Today sees the long-awaited publication of the BEIS Consultation - "Reforming Competition and Consumer Policy: Driving Growth and Delivering Competitive Markets that Work for Consumers".
I am sure you will agree that this is an important moment for CTSI to help shape the future of the consumer protection landscape and to ensure that the views of our members are represented through the consultation process. Business Secretary, Kwasi Kwarteng, said recently "The UK's economic recovery relies on the strength of our markets and consumers' faith in them". I think we would echo this sentiment, and that there has never been a better time to focus on reform and to 'build back fairer' in a rapidly changing environment as we move out of the EU and recover from the impact of the COVID-19 pandemic which has exposed some of the frailties of the existing system. Whatever the outcome of the review it must ensure that all layers of the consumer protection system are resourced sufficiently and able to work together effectively, from the national to the local, and we, therefore, look forward to the opportunity to commenting on the Governments' proposals with a specific focus on trading standards' critical role protecting consumers.
You can see the full Consultation via the link https://www.gov.uk/government/consultations/reforming-competition-and-consumer-policy but to help the headline key themes are listed below along with our plan for engaging with members and responding.

Themes
The Paper focuses on three areas and our response will mainly focus on parts 2 and 3.
Chapter 1 - Competition Policy
Promoting competition to drive enterprise, innovation, growth, and productivity, including strengthening CMA powers.
Chapter 2 - Consumer Rights
Updating consumer rights to keep pace with markets, including:
• maintaining strong consumer rights and business competitiveness
• modernising consumer rights and subscription contracts
• fake reviews
• preventing online exploitation of consumer behaviour
• balancing burdens on businesses
• tackling non-compliance on refunds
• strengthening prepayment protections for consumers

Chapter 3 – Consumer Law Enforcement
Strengthening the enforcement of consumer law by individuals and regulators, including:
• the value of strong enforcement
• strengthening enforcement by the CMA
• supporting consumers enforcing their rights independently
•Trading Standards enforcement
• giving businesses the right support to comply with consumer protection law
• ensuring our international trade is a success for consumer rights

Our response plan
CTSI has mobilised and in conjunction with ACTSO/NTS has formulated the following plan to ensure all groups have an opportunity to provide feedback for the respective CTSI and ACTSO responses:
• there will be a template used for all feedback which will be provided shortly via the groups set out below
• NTS/ACTSO responses will be obtained via regions and nations – either via written response or Teams meetings
• CTSI Branch Secretaries and Chairs of Groups such as the Business Members Group will be asked to submit responses on behalf of their members
• there will be specific meetings with experts on issues such as online, subscription traps and national cases etc using CTSI Lead Officers and NTS Team managers
• none of what is outlined above has any impact on any consultations or responses that regional and national groups, or individual local authorities, might wish to make on their own.

The above process will capture the formal consultation responses but as always if you have any comments or feedback please feel free to contact me at feedback@tsi.org.uk.
John Herriman
CTSI Chief Executive
---