News
Lifetime Achievement Award for Southwark man who dedicated his career to Trading Standards
Posted 30/11/22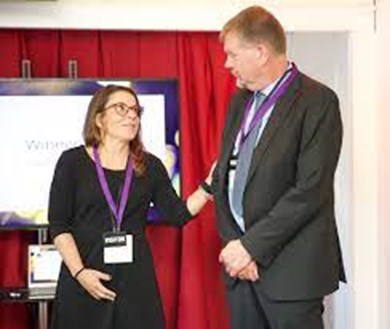 Southwark Borough Trading Standards Officer Ray Moore, with more than 34 years' experience in London and beyond, has been recognised in the Chartered Trading Standards Institute's (CTSI) annual Hero Awards ceremony. 
Ray received the Lifetime Achievement Award in the Trading Standards Hero category at the ceremony, hosted by CTSI at the House of Lords on Wednesday 23 November.
Among Ray's achievements at Southwark include leading on more than 600 underage sales operations, contributing to local knife crime reduction work, conducting serious 'rogue trading' investigations and achieving a custodial sentence for a company director (who had sought to pervert the course of justice) after his sale of an illegal pesticide led to a tragic death.
He was nominated by Paul Gander at Southwark Council Trading Standards, who said: "Ray has a fantastically wide-ranging skillset. He has delivered so many successes in his 12 years at Southwark that the award nomination could run into thousands of words. Even though he has reached an age when he can now retire and relax, his enthusiasm, energy and commitment to the profession remains undiminished."
The award recognised three key strands of Ray's vital work serving the community:
• Firstly, Ray's role in being the 'first boots on the ground' enforcing emergency legislation affecting business in the council's Covid-19 response, part of Southwark's Fairer Future Commitments. This included addressing the problem of large crowds at a world-renowned food market at the height of the pandemic's second wave in 2020
• Secondly, his work as the Trading Standards 'Responsible Authority' officer under the Licensing Act, meaning that he has reviewed over 1,000 licensing applications and helped shape conditions that seek to prevent underage sales and also reduce the availability of high strength beers which can contribute to local health inequalities and anti-social behaviour
• Thirdly, his strong investigative skills which led to the identification of the common theme of potential modern-day slavery victims working in licensed premises. He has often uncovered illegal migrants working long hours and sleeping in unfit and unsafe conditions.
CTSI Chief Executive John Herriman said: "Ray's continued dedication to the profession he has made his life's work is truly inspiring. We are blessed to have somebody like him in the profession and his passion supporting junior colleagues through mentoring is a much-needed skill. There is absolutely no doubt that he is a remarkable individual who has gone the extra mile throughout his 34-year career. 
"The CTSI Hero Awards are a fantastic opportunity to celebrate remarkable individuals or groups of people who make outstanding contributions towards safeguarding vulnerable consumers in our communities. Every year, we are inspired by the stories of nominees throughout the country whose bravery, altruism and hard work often goes unnoticed. These awards honour those remarkable people who have gone the extra mile for consumers."
Chartered Trading Standards Institute (CTSI)
The Chartered Trading Standards Institute (CTSI) is a national not-for-profit organisation established in 1881 which supports the UK's trading standards profession and works to protect consumers and safeguard honest businesses. CTSI's members are engaged in delivering frontline Trading Standards services at local authorities and in businesses. www.tradingstandards.uk
Picured left to right: Louise Baxter Head of National Trading Standards and Ray Moore Hero Award winner.
Please contact CTSI Press Office: pressoffice@tsi.org.uk for any queries. 
---