News
CTSI launch IP strategy to support Local Authorities
Posted 01/07/15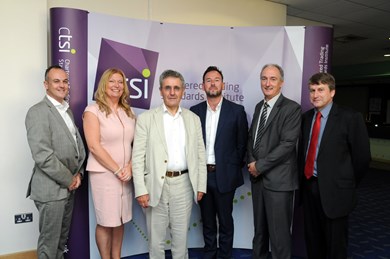 On Wednesday 1 July 2015, CTSI launched its strategy for intellectual property (IP) aimed at local authorities at the annual conference in Bournemouth. 
IP has grown considerably in importance within the UK economy. Government statistics show that UK's trademarks, copyrights and the wider creative industries (copyright owners), are now worth £71.4 billion per year to the UK economy – generating just over a staggering £8 million pounds an hour. 
The strategy, with contributions from a number of organisations such as the IPO, Alliance for IP and the Anti Counterfeiting Group has suggested a number of measures that local authorities should consider to best support business with their IP.
The key is working to identify business with IP and reach out to them with support. Placing these actions at the heart of economic growth plans will help to ensure that there is reasonable chance for business to succeed. The strategy further proposes that authorities should be pro active in partnering with regional and national organisations to combat IP crime.
Trading standards services remain best placed to support business and combat IP infringement and can also combat the negative impact of those criminal groups that counterfeit goods. 
Mike Weatherly, former IP advisor to the Prime Minister said: "I was delighted to see the CTSI IP strategy. Intellectual property protection is something that needs to be higher on the agenda and having an organisation such as chartered trading standards institute get involved and have a really clear objective and strategy is music to my ears it really is fantastic. I wish it all the success and I look forward to seeing it being seen through to its conclusion."
Eddy Leviten, Alliance for IP said: "What's great is the sense of positivity of people in trading standards and CTSI particularly with the IP Strategy which they're developing. The Alliance for IP has members across the whole range of IP from brands and trademarks through to copyright enforcement bodies and rights collecting societies as well but what we all believe in passionately is that IP needs protecting and enforcing and that can take a whole range of difference measures which also means disruption and deterrent. 
"Crucially trading standards are a really important part of that picture at a local level and the government agenda for innovation and growth including creating jobs, helping small businesses and start-ups develop across the UK means that IP protection is even more important because by doing IP protection your enabling those businesses to grow and not being stifled by criminal activity. Criminal activity harms local business and local communities it drives down investment and jobs and ultimately it impacts on everybody living in the UK."
The strategy is available on our website.
Main Conference Sponsor 
Notes for Editors:
A tool kit is being prepared to support the IP strategy and help TSPs identify and work with partner organisations. This will be published shortly on the CTSI website.
The latest customs report from the EU Commission reports that, in 2013, UK Customs dealt with over 21,000 IP related cases, and detained 3.3 million fake products. A significant percentage of these articles directly threatened the health and safety of consumers.  "Daily use", products included food and beverages, body care articles, medicines, electrical household goods and toys and accounted for a total of 25.2% (compared to 12.7% in 2012) of the total number of articles detained across the EU.
Photo from left to right: Picture from left to right: Eddy Leviten, Alliance for IP. Helen Barnham, Intellectual Property Office. Professor Sir Robin Jacobs. Matt Lumb, Tangle Teezer. Mike Weatherley. Gavin Terry, CTSI joint intellectual property lead officer.
For further information or to arrange an interview or to obtain photographs please contact the CTSI press office on 01268 582240 or pressoffice@tsi.org.uk
---