News
Witnesses and PC help bring deceptive business owner to justice
Posted 03/07/14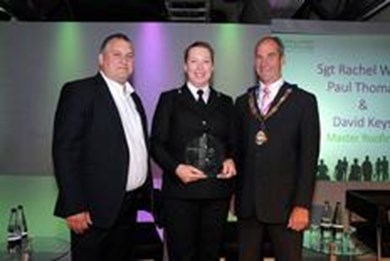 Three witnesses and an investigating police officer received a Hero Award at the Trading Standards Institute's (TSI) Conference in Harrogate on Thursday for their significant contribution to consumer protection in the Kingsbridge area of Devon.
A business owner who cold called Kingsbridge residents in order to obtain work was subject to an investigation following concerns raised by residents and South Hams District Council, to neighbourhood beat officer PC Rachel Ward. One local resident handed PC Ward a leaflet after being cold called, and next to "specialist in" they wrote "conning old ladies" as they were concerned with their business activities.
Using finger print evidence, CCTV footage and witness statements, PC Ward worked with Devon & Somerset Trading Standards Service and South Hams District Council to prosecute Dan Ward, owner of Master Roofing, for overcharging for poor quality work, failing to identify himself on documents and fly-tipping.
The elderly witnesses provided vital evidence explaining the serious fraud Daniel Ward inflicted on his victims. It was this bravery, combined with PC Ward's ingenuity and skill, that saw the witnesses and PC Ward put up for a Hero Award nomination by Devon and Somerset Trading Standards service.
TSI chief executive Leon Livermore said: 'As the recent TSI Workforce Survey shows, funding for trading standards services across England and Wales will decline on an average of more than 40% over the lifetime of this parliament. While we work toward a more consistent funding mechanism, heroes like PC Ward and the witnesses play a vital role in helping trading standards officers protect vulnerable members of the community. 
"I am delighted to present this group with a TSI Hero Award, giving it well deserved national recognition both at the level of the individual volunteers and at the collective trading standards level."
The Hero Award is a fantastic opportunity for TSI to celebrate outstanding contributions by individuals or groups of people to consumer protection in our communities.
Every year TSI is deeply inspired by the stories of winners from around the country – their bravery, altruism and hard work, which too often does not receive due recognition – and presents them with an award at TSI's annual conference. 
Cabinet member with responsibility for trading standards in Devon, Roger Croad, says: "I would like to extend my thanks and appreciation to both residents, officers and police who all played their part in this investigation. This was undoubtedly a stressful and unpleasant experience for victims concerned. The fact that they were able to overcome their fears and give evidence was essential in achieving a successful result. Not only does it send out a message to the perpetrators of such crimes, it demonstrates excellent working practice both by the trading standards team and our partners."
For more information please contact press office at pressoffice@tsi.org.uk or 08456089430 / 07780675815. Follow us on Twitter @tsi_uk or #TSIConf
Main Conference sponsor
END
Notes for Editors:
Photo from left to right: TSI CEO Leon Livermore, PC Rachel Ward, TSI Chairman John Peerless.
For real time updates on what's happening with trading standards, follow our blog at http://tradingstandardsinstitute.wordpress.com/
Trading Standards Institute (TSI)
TSI is a training and membership organisation that has represented the interests of the Trading Standards profession since 1881 nationally and internationally.  We aim to raise the profile of the profession while working towards fairer, better informed and safer consumer and business communities.
TSI's members are engaged in delivering frontline trading standards services in local authorities and in businesses.  
www.tradingstandards.gov.uk @tsi_uk
---