News
New guide to help businesses understand their obligations
Posted 16/12/16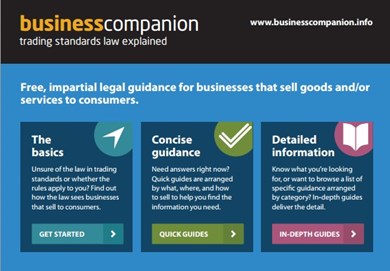 Businesses that sell goods and services online and in people's homes are being reminded that they can have more responsibilities than those who sell over the counter and on the high street.
The warning is in a new guide, published today (00:01 Dec 16) by trading standards experts, and comes after a third of businesses reported that asking for cancellation fees had led to disputes with customers.1
Published on the government-backed website www.businesscompanion.info the guide seeks to answer the top five issues faced by businesses that sell goods or services online, by phone or by mail order.
It also looks at businesses that sell in people's homes such as tradesmen and those who work in sales.
Delivered by the Chartered Trading Standards Institute (CTSI) in collaboration with trading standards and consumer law professionals www.businesscompanion.info provides free, accurate and practical advice on all trading standards law, not just distance selling.
Sell online or in homes? You may have more obligations than high street retailers. New guidance @ https://t.co/yUJ37GsgX9 #businesscompanion pic.twitter.com/AvSr2uDJxO

— CTSI (@ctsi_uk) December 16, 2016
Adrian Simpson, CTSI's business education and consumer advice expert, said: "Customers often cancel services or return goods and we understand that can be difficult for businesses.
"That's why it's important everybody is clear on the law and your customers' cancellation rights are clear from the start.
"For some newer and possibly even smaller businesses that might feel counterintuitive, like you are inviting customers to return goods, but businesses that fully understand their obligations save time and money, and drive up customer satisfaction.
"When you get trading standards law wrong, it's bad for business. It often leads to complaints and reputational damage and if trading standards get involved you could end up being prosecuted and fined. We don't want that.
"The new guide and the wider information on the Business Companion website allows businesses to access technical and legal expertise for free, so they can make sure they are clear on the legislation that affects them."
Some of the issues covered in the new guide include: what information businesses should give to a customer when a contract is made; cancellation rights for various products and services including digital content; and the circumstances that apply when issuing a refund.
In addition to being a useful reference in its own right, the guide signposts to other sections of the www.businesscompanion.info website that many businesses will find useful. CTSI has also produced a short animation to explain the basics.
The guide is available to view here(00:01 Dec 16).

ENDS
Notes for Editors:
View the guide here [to be published Friday 16 Dec]: https://www.businesscompanion.info/en/news-and-updates/off-premises-and-distance-contracts-top-five-questions
View the full animation here: https://www.youtube.com/watch?v=zAxWOSgNkAs
View the short animation here: https://www.youtube.com/watch?v=SFKbogv2kS8
Visit the Business Companion website here: www.businesscompanion.info
A third 1/3 of businesses operating cancellation charges experience a dispute pertaining to this behaviour. (Unfair Contract Terms research, CMA, page 9)
---