News
London Trading Standards Week Day 5: Survey finds safety failures at 1 in 3 second-hand electrical shops
Posted 29/09/17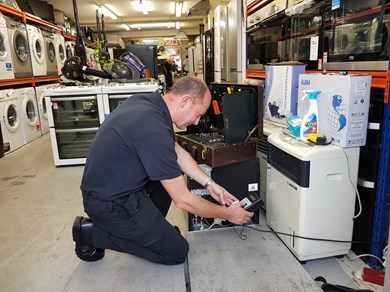 Following serious fires in London caused by defective domestic appliances, London Trading Standards have been inspecting second-hand electrical shops across the capital this month.
18 Boroughs took part and found product safety issues at over a third of the 91 premises visited.
The results were released on Day 5 of London Trading Standards Week (25-29 September) which is focused on how Trading Standards can help prevent Londoners being killed or injured by unsafe domestic goods.
The visits are still ongoing and as part of the campaign Officers provide all the shop owners with advice on the relevant safety regulations along with practical tips on the steps they can take to ensure dangerous goods are not sold. These include electrical safety tests, providing safe usage instructions and checking if products have been subject to a safety recall.
Results
91 businesses checked across 18 Boroughs
322 used electrical appliances were examined
34% of the businesses were found to have goods that did not comply with the law
At one premises a faulty tumble dryer was identified and subsequently removed from sale. The dryer was subject to a product safety recall due to an inherent fault. At another shop, a damaged dishwasher with exposed live wires was found and was subsequently scrapped by the trader.
In addition, a shop owner voluntarily agreed to withdraw from sale 29 electrical appliances, 4 gas cookers and 3 sofas. These will all be destroyed.
Rental advice for students
Boroughs have also been providing advice to students about checks they can make on appliances supplied in their rented accommodation, including how to find out if the products have been subject to a recall.
Lynn Faulds Wood, former Watchdog presenter and Ambassador for London Trading Standards said:
"It is shocking how many fires are still caused by domestic appliances. The second hand market sells many tumble dryers and other electrical goods which could be dangerous and I applaud the work of London Trading Standards in investigating second hand appliances. People with less money often have no other real option but to buy second hand, so it is really important that the machines they buy are safe".
Steve Playle, Spokesperson for London Trading Standards said:
"These results show that too many second-hand shops are not taking their responsibilities seriously enough. We'd like to see evidence of all used electrical appliances being tested by a competent person before being offered for sale."
"On a positive note we found examples of really good practice too, such as the use of 'MOT' type checklists being used to let customers know which checks have been done. It would be great to see all traders adopting such an approach. Such testing may increase costs slightly but what price safety?"
The aim of London Trading Standards Week is to promote and raise awareness about the wide range of work carried out by Trading Standards Services across London. Further details about the rest of the campaign can be found on the website, www.londontradingstandards.org.uk. #LTSweek
For more information, please follow us LTS on Twitter (@London_T_S), or visit our website www.londontradingstandards.org.uk.
---