News
Suspected fake designer goods seized in Trading Standards raids
Posted 19/12/17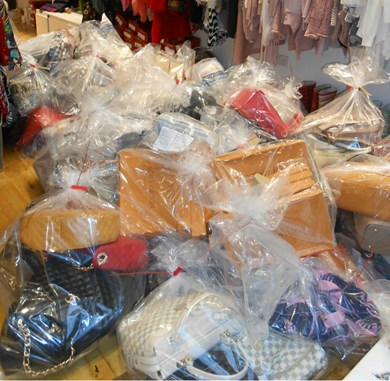 Shoppers are being encouraged to heed consumer advice this Christmas after Barnet Trading Standards officers seized hundreds of suspected counterfeit designer handbags during raids on shops in the borough.
Three simultaneous raids by the council's Trading Standards team* on shops in Golders Green, North Finchley and a house in another part of London revealed a treasure trove of suspected fake high-end merchandise.
The haul included handbags sporting top designer labels such as Chanel, Prada and Louis Vuitton, all of which are thought to be counterfeit.
In total, officers took away around 130 evidence bags filled with seized goods after carrying out the co-ordinated operation on 7 December with support from the police and a specialist brand expert.
The items will now be individually examined to confirm whether the goods are counterfeit or genuine.
With Christmas almost here, shoppers are being urged to think twice before parting with their cash in a bid to bag a festive bargain.
Councillor Dean Cohen, Chairman of Barnet Council's Environment Committee, said: "Christmas is just the time that shoppers will be out looking to buy designer goods such as these to give as gifts to friends and family, and it's very important that consumers are able to have confidence in what they are buying.
"Counterfeit products are generally of an inferior quality and, in the case of electrical goods, could be dangerous.
"I would encourage people to think carefully before handing over their money. If a deal looks too good to be true, then it probably is."
Anyone who spots a product on sale which could be counterfeit should contact the Citizens Advice consumer helpline on 03454 04 05 06.
---