News
Community wardens educate companies on scam awareness
Posted 02/07/15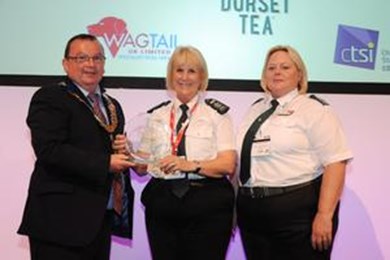 Community Wardens received a Hero Award at the Chartered Trading Standards Institute's Conference in Bournemouth on Thursday 2 July for the significant contribution they make to consumer protection in Kent.
Kent County Council Community Wardens work in partnership with the trading standards services, police and local authorities and have campaigned to prevent and reduce scam crime for the past 13 years. The Community Wardens support and protect 1.46 million residents living in 128 local communities every day.
Whilst working on the 'Stop the Scammers' project, the Community Wardens visited more than 1,500 scam victims who had been identified on a 'suckers' list. During these visits, the wardens completed a questionnaire with each resident giving insightful feedback to monitor the progress of the Stop the Scammers project and provide the National Scams Hub with the feedback needed to tackle national scams issues.
The Community Wardens also deliver training to banks and post offices on scams awareness and where to report it, ensuring an effective and successful referral process is in place. They have assisted at the training sessions for more than 400 Royal Mail postal delivery workers. Wardens now also visit the scam victims identified following this training.
Mike Hill, Kent County Council's Cabinet Member for Community Services, said: 'We are extremely proud of the invaluable contribution which our community wardens make in the towns and villages across Kent on a daily basis. Over the past few months they have supported our trading standards officers in a campaign to reduce the number of victims of various scams.
"The wardens have worked tirelessly, often in their own time, to visit vulnerable residents and warn them about the various ways in which scammers can part them from their money. They have helped hundreds of people save thousands of pounds. Kent County Council is delighted with their achievements and this award is well deserved."
CTSI chief executive Leon Livermore said: 'As the recent CTSI Workforce Survey shows, funding for trading standards services across England and Wales will decline on an average of more than 40% over the lifetime of this parliament. While we work toward a more consistent funding mechanism, heroes like Community Wardens play a vital role in helping trading standards officers protect vulnerable members of the community.
"I am delighted to have presented Community Wardens with a CTSI Hero Award, giving it well deserved national recognition both at the level of the individual volunteers and at the collective trading standards level."
The Hero Award is a fantastic opportunity for CTSI to celebrate outstanding contributions by individuals or groups of people to consumer protection in our communities.
 Main Conference Sponsor
Notes for Editors:
For more information please contact press office at pressoffice@tsi.org.uk or 01268 582240. Follow us on Twitter @ctsi_uk or #CTSIConf
A 'suckers list' is a list of people who have previously been successfully solicited for something, who may already have fallen for a scam charity collection or other con and are considered ready to be targeted again. The major areas of sucker lists are solicitation of donations and fraud.
'Stop the Scammers' project: all 70 community wardens and their team leaders have attended training sessions to ensure a coordinated and sympathetic approach in tackling this problem.
Picture from left to right: Mark McGinty, CTSI chairman. Janet Greenroyd and Dawn Riach-Brown, Community Wardens.
For further information or to arrange an interview please contact the CTSI press office on 01268 582240 or
pressoffice@tsi.org.uk
---